HIGH BRANCHED CHAIN AMINO ACIDS IN AN OPTIMUM RATIO OF 2: 1: 1
UP TO 80% BCAA IN EACH SERVING
VALUABLE ADDITION OF VITAMIN C, B6 AND B12
HELPS PROTECT YOUR MUSCLES FROM CATABOLISM
MAXIMIZE POST-WORKOUT REGENERATION
ASPARTAME FREE - CONTAINS NO ASPARTAME!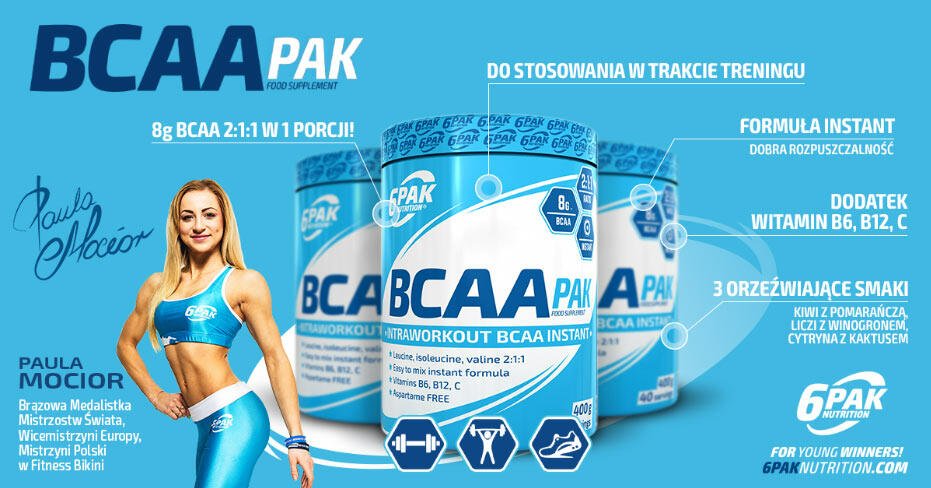 Brand 6PAK Nutrition hit enter on the market nutritional and dietary supplements, offering high quality products with sophisticated compositions in a very good price. Every athlete appreciates other aspects of the use of their supplements, but in any case you will find something for everyone!

6PAK Nutrition BCAA Pak is a product based on high-quality BCAA (L-Leucine, L-isoleucine and L-valine) in the optimal ratio of 2: 1: 1, which guarantees a strong anti-catabolic effect and support regenerative processes. The great advantage of this product is its sensational solubility through the use of instanizowanej forms of amino acids. The formula is enriched with a set of vitamins (C, B6 and B12). With such additives body will be able to quickly replenish their possible deficiencies. It is worth noting the effect of vitamin C on the immune system and decrease cortisol levels, which translates into increased phenomenon of decay of body tissues (including muscle).

EXCELLENT SOLUBILITY - REV INSTANT - and strengthen TASTE!

6PAK Nutrition BCAA Pak is a professional supplement, so that in a simple and fun way to deliver your body with a good dose of branched chain amino acids, which the body can not synthesize itself. They represent about 35% of the total muscle mass, you should therefore ensure an appropriate number of them in your daily diet.

Nutrition BCAA supplementation 6PAK Pak brings a lot of benefits such as:
- Protection against catabolism,
- Acceleration of regeneration after training,
- Maintaining a positive nitrogen balance so that the anabolic processes can occur quickly and easily!

HIGH CONCENTRATION BCAA, VALUABLE ADDITION OF VITAMINS.

Vitamins perform a variety of functions and determine the correct operation of the entire body (part of the enzymes but also affect the sealing of blood vessels thus impeding the penetration of micro-organisms). Vitamin C supports the immune system, which is very weakened by subjecting the body large and regular factors stressful - for them should also be counted against the heavy workouts. The emergence of this vitamin in the composition is not accidental, and make you less susceptible to infection which will minimize the risk of disease, which would force a break in training. B vitamins have a significant impact on the proper functioning of the nervous system (help to calm, enhance well-being), of course this is not all. Pyridoxine hydrochloride (vitamin B6) is necessary for blood formation, relieves muscle spasms and hands, but its most important function for athletes is involved in the metabolism of proteins - facilitating its assimilation! Vitamin B12 is involved in the metabolism of fats, proteins and carbohydrates. As you can see a summary of these three vitamins it is not accidental and carries certain advantages!

6PAK NUTRITION BCAA PAK - FANTASTIC PRODUCT AT A GOOD PRICE!



[1]. Peters EM, Anderson R, Nieman DC, Fickl H, Jogessar V. Vitamin C supplementation attenuates the increases in circulating cortisol, adrenaline and anti-inflammatory polypeptides following ultramarathon running., J Sports Med. 2001 Oct;22(7):537-43

[2]. Normy żywienia dla populacji polskiej– nowelizacja, pod red. Jarosz M., wyd. Instytut Żywności i Żywienia, Warszawa 2012

[3]. Rożnowska K., Witaminy i biopierwiastki, Kraków 1996


Recommended use:
Mix 1 portion of 300 ml of water. Consume before / during or after exercise.
UWAGA - kopiowanie oraz rozpowszechnianie opisów produktów zamieszczonych w sklepie BODYPAK.PL jest zabronione!
Zgodnie z Ustawą z dnia 4 lutego 1994 r. o prawie autorskim i prawach pokrewnych (Dz. U. z 2006 r. Nr 90, poz. 631 z późn. zm.)