Description
MAXIMUM TEMPERATURE WASHING TO 30 ST. C
DONE WITH THE UTMOST ATTENTION TO DETAIL FROM THE FINEST QUALITY MATERIALS
INGREDIENTS: 88% POLYESTER AND 12% ELASTHAN (GUARANTEE OF HIGH STRENGTH AND T-SHIRTS STRETCH)
ORIGINAL DESIGN BASED PICTOGRAM BODYPAK
LIVING COLOUR EYE-CATCHING
HIGH STABILITY WITH THE USE OF PAINT RESISTANT SPIER
HOW TO WASH IS DESCRIBED ON THE LABEL
HAVE UNIQUE PATTERN GRAPHIC WHO MAKES YOU UNIQUE WHEN TRAINING
FORWARD PICTOGRAM "B" THE BACK IS THE WORDS BODYPAK (WITH LOGOTYPE) AND ON THE LEFT SIDE OF WORDS "KEEP FIT" MOTIVATING FOR FURTHER TRAINING!
ADAPTS PERFECTLY TO THE FEMININE SILHOUETTE - STRESSING ITS VALUES
DEEPER INDENT THE BACK REVEALING SHOULDERS
FEEL FREE MOVEMENT, IS CHARACTERIZED BY WEARING COMFORT
SEAMS ARE DEEPLY HIDDEN I DO NOT CAUSE DISCOMFORT
PROFESSIONAL PATTERN MAKES SEAMS THAT ARE AT THE SAME TIME TOUGH AND GENTLE

Newest Women's T-shirt brand B-WEAR characterized by high quality workmanship and attention to every detail, so that wearing comfort is very high. An additional advantage is the use of compression, which also affects the highlight figure and improves mood Women wearing it. The material is characterized by high durability and elongation, thanks to its unique proportions of the polyester (88%) and elastin (12%)!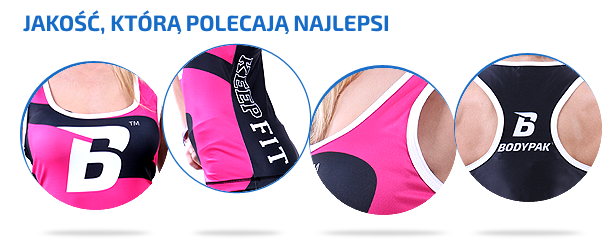 FRONT IS BIG, VISIBLE PINK LOGO BODYPAK part of the background SHIRTS, AND SECOND, LOWER COLOR WHITE - SUCH LINK PROVIDES EXCELLENT RESULTS!

Very vivid colors will surely appeal to you and help you stand out from the crowd. T-shirt is made with attention to the smallest detail. Seams are deeply hidden, so it does not cause discomfort when worn. Worth emphasizing is the high-quality paint, which is resistant to repeated washing. The exact way the wash is described on the label of the product.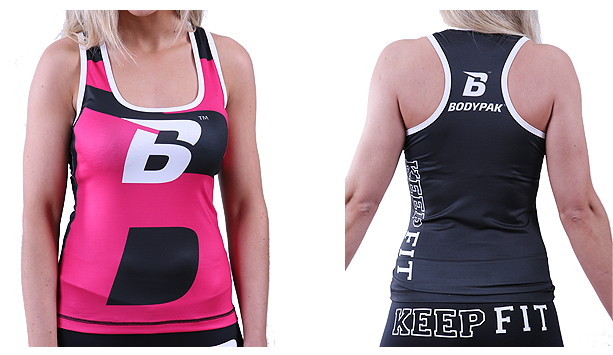 T-shirt brand B-WEAR is also distinguished by a unique pattern graphic, which also slimmer around the waist. The product is promoted by Paula Sows (champion of Silesia in bikini fitness - 2015), which shows a perfect fit and cut shirts discussed. During the training you will not feel in any way embarrassed!

LATEST FEMALE T-SHIRT BRAND B-WEAR THIS CONNECTION chic and elegant in SPORTS Unveiling!

It comes in the following sizes: 34, 36, 37, 38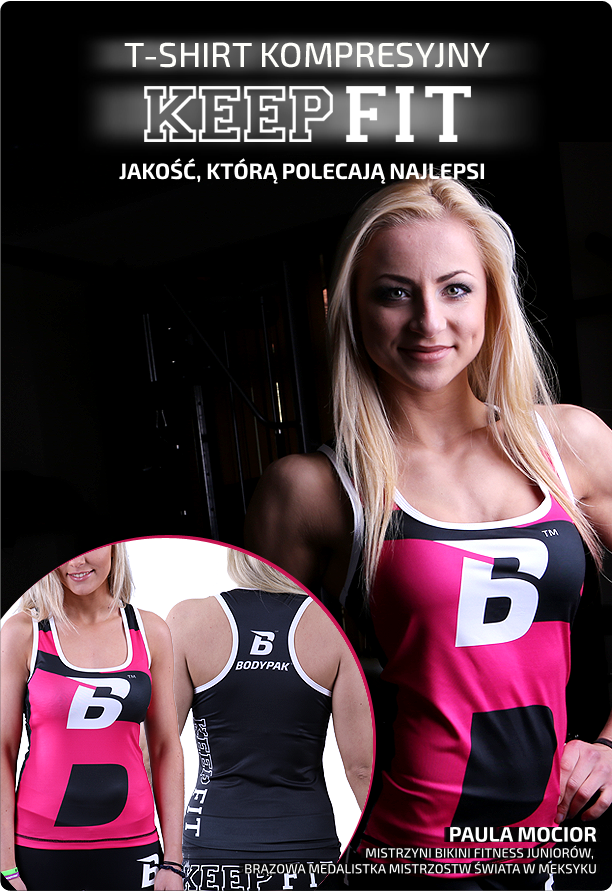 © UWAGA OPIS AUTORSKI BODYPAK - kopiowanie oraz rozpowszechnianie opisów produktów zamieszczonych w sklepie BODYPAK.PL jest zabronione!
Zgodnie z Ustawą z dnia 4 lutego 1994 r. o prawie autorskim i prawach pokrewnych (Dz. U. z 2006 r. Nr 90, poz. 631 z późn. zm.)
Cena za jeden opis naszego autorstwa wynosi 10 000 zł netto.