Description
EFFECTIVE AND SAFE FORMULA
MAXIMIZE EFFECT PUMP TRAINING
CONTRIBUTES TO IMPROVING THE MOTIVATION
ENABLES BETTER NUTRITION AND OXYGENATION AND
ACCELERATES REGENERATION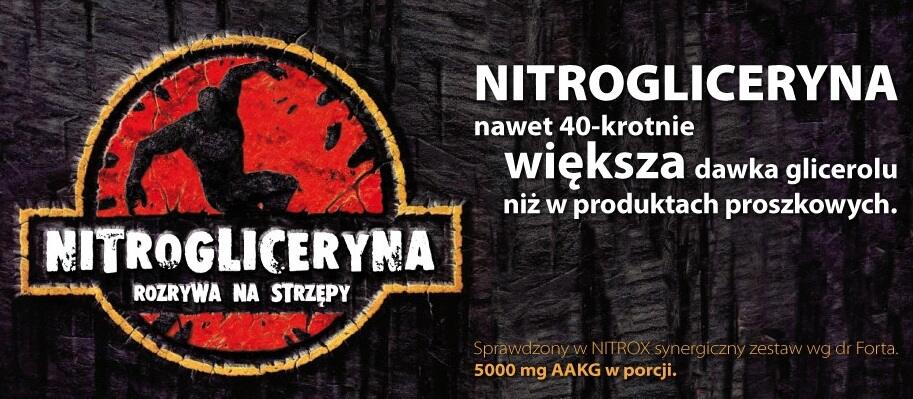 Innovative product, which is based on years of experience of the best specialists in sports supplementation! Extreme effects with proven and completely safe formula! It provides significant pump after training but also increases muscle mass, thanks to the content of an anabolic form of creatine.

Experiments using glycerol in helping athletes reach the 90s, it was the company MEGABOL then conducted successful attempts at the Military Medical Academy. Innovative product Expander came into the hands of top athletes.

MAXIMUM CONCENTRATION OF ACTIVE. EFFECTIVE AND SAFE FORMULA.

After many years on the market began to appear preparations for bodybuilders, are based on the dry form - glycerol monostearate. However, these products are not sufficiently effective - monostearate contains only about 7% of the glycerol (in the form of a pure liquid), thus we have focused on a product that could be safely consumed, and based on pure, 99.5% glycerine (glycerol). This is how nitroglycerin.

The scope of action of nitroglycerin ™:
1. Supporting the blood supply to muscle through the nitrogen oxide (NO2).
2. Increasing the volume of blood function.
3. Delivery and produce energy for immediate use.
4. Stimulation of the psyche in terms of results.
5. Protection against muscle catabolism (elimination of the effect of lactic acid) and early recovery support.
6. Support for anabolic processes and the development of muscle tissue.

MEGABOL nitroglycerin ™ is a highly specialized preparation with a broad spectrum of activity, to eat immediately before a workout. The preparation mobilizes, improves blood circulation, increases the power of training and strengthens the anabolic effects of weight training.

MEGABOL nitroglycerin ™ is a unique formulation combining the use of the activity of nitric oxide (NO2) in combination with glycerin (glycerol). For synthesis support NO2 responsible for binding the arginine supplied A-AKG. The high dose of the compound (500-0m g / portion) supports the development and regeneration of muscle, arginine itself involved in the production of growth hormone (hGH). A-AKG in combination with the added product to OH-methyl-butyrate can prevent reduction of muscle mass, regardless of its cause. Such a process confirmed by scientific research. A substance which further assists in tissue vascularity is niacin.

Product nitroglycerin ™ is based on the active compounds known from the product formulation NITROX Dr. Petra Forta. In terms of operation psychostymulującego is a counterpart thereof. Such action is perceived as increased motivation, vitality and concentration przedwysiłkowej.

Innovation nitroglycerin ™ to attach to the product pure liquid glycerol - a substance 14 times more concentrated than the glycerol monostearate. Taking into account the dose, the body will receive up to 40 times more this component than in the case of popular supplements in the form of free-flowing (based on glycerol monostearate). Glycerol was used in endurance sports as so. plasma expander in place of illegal blood doping. It has a water binding capacity of the intercellular space and transferring it to the cytoplasm (improvement of vascular muscle) and further into muscle tissue. A sudden increase in blood volume in the body not only increases the so-called "pump", but also increases the transport takes for the muscle of oxygen, glucose and amino acids.

With increasing hydration, the functionality of a specific protein (dystrophin, proteoglycans) and by the force of muscle contraction. Two appropriate forms of creatine by maintaining a high level of adenosine triphosphate to increase muscle strength and are responsible for weight gain. However, in the case of product nitroglycerin ™ is not necessary cyclical administration. Creatine malate (tri-creatine-malate) stimulates insulin and helps penetration of the same creatine into the muscle cells. This form of creatine reduces pain and prevents spasms, is also highly stable in an acidic environment. STR ™ creatine - creatine a form protected against decomposition of ethanol by a hydroxyl (as in the case CEE - creatine ethyl ester). One mole of creatine binds two moles of hydroxyl group. Carboxylic acid ester bonds are chemically effective protection forms available active compounds.

MEGABOL nitroglycerin ™ - MAXIMUM PUMP AND gain in muscle mass!
Recommended use:
A dietary supplement is a concentrate. The preparation used before training as a supplement to drink. Immediately before use, shake the container several times. Using the included dispenser download from the container 30ml dietary supplement, and then inject it into 300ml of water or other beverage used during training. Mix thoroughly. Consume slowly. The maximum daily dose is two 30ml portions at an interval of several hours. Do not exceed the recommended dose and the single dose daily.
UWAGA - kopiowanie oraz rozpowszechnianie opisów produktów zamieszczonych w sklepie BODYPAK.PL jest zabronione!
Zgodnie z Ustawą z dnia 4 lutego 1994 r. o prawie autorskim i prawach pokrewnych (Dz. U. z 2006 r. Nr 90, poz. 631 z późn. zm.)
Suplement diety / Środek spożywczy zastępujący całodzienną dietę, do kontroli masy ciała.
Nie może być stosowany jako zamiennik bądź substytut zróżnicowanej diety.
Nie należy przekraczać zalecanego dziennego spożycia.
Produktu nie należy podawać matkom karmiącym oraz kobietom w ciąży.
Przechowywać w miejscu niedostępnym dla małych dzieci.
Przechowywać w suchym miejscu, w temperaturze pokojowej do 25°C. Chronić przed światłem.
Composition
| | | | |
| --- | --- | --- | --- |
| Serving Size: | 30ml | | |
| Servings Per Container: | 20 | | |
| Packing: | 600ml | | |
| Objętość netto: | 600.00 ml | | |
| Contents: | Per Serving: | incl: | % RWS * |
| | - Super Accelerator Pump | 13760mg | |
| | Glycerin (pharmaceutical purity 99.5%) | 8750mg | |
| | - As 1,2,3-trihydroksypropan | | |
| | AAKG | 5000mg | |
| | Pyridine-3-carboxylic acid | 10mg | |
| | - Action Starter | 8130mg | |
| | 6- (hydroxymethyl) dioxan-2,3,4,5-tetrol | 6000mg | |
| | Acid, 2-aminoethanesulfonic | 2000mg | |
| | Orange oil - extract | 130mg | |
| | - Muscle Jet Anabolizer | 2500mg | |
| | Creatine stack | 2000mg | |
| | STR creatine - creatine monohydrate, 1300mg, hydroxy-ethane | | |
| | Tri-creatine malate | 700mg | |
| | Acid Beta-hydroksyizowalerianowy | 500mg | |
| | - Nutritional value in 100 ml | | |
| | Energy | 195 kcal / 828 kJ | |
| | Protein | 0 | |
| | Fat | 0 | |
| | Carbohydrates | 48,7g | |
| | Including glycerol | 29,1g | |
| | Stimulating additives | 32,1g | |
| | Ingredients: glycerol, dextrose, arginine (compound alpha-keto-glutarate AAKG), creatine (STR creatine monohydrate, hydroxy-ethane), taurine, creatine malate, OH-methyl-butarat, orange oil - extract, niacin. Other ingredients: water, the aroma of grapefruit flavor, E466 - thickener, potassium sorbate - preservative, tartrazine - dye. | | |
* % Referencyjna wartość spożycia