HIGH CONCENTRATION FULL-VALUE PROTEINS IN EACH SERVING (UP 20%)
CONTAINS NO ADDED VEGETABLE PROTEINS
CONTAINS MIXED SOURCES OF CARBOHYDRATE
IDEAL CHOICE FOR PERSONS HAVING TROUBLE GAINING MUSCLE MASS
OUTSTANDING BALANCED NUTRIENTS (PROTEIN, CARBOHYDRATES, AND FAT) MAKES THEM PERFECTLY SUITED TO AS REGULAR MEAL REPLACEMENT
REFINE TASTES AND SEAMLESS DISSOLUBILITY EACH SERVING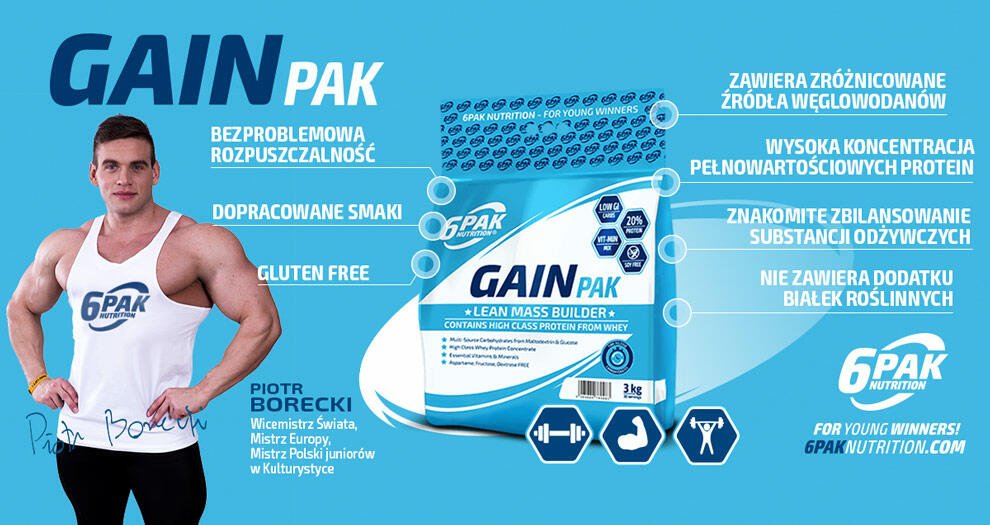 Brand 6PAK Nutrition hit enter on the market nutritional and dietary supplements, offering high quality products with sophisticated compositions in a very good price. Every athlete appreciates other aspects of the use of their supplements, but in any case you will find something for everyone!


6PAK Nutrition proudly introduces another proposal for the most demanding athletes. This is the conditioner of "gainer", through which you get the coveted muscles in even less time. The product is based on different sources of carbohydrates - mainly maltodextrin (a complex carbohydrate) and the addition of glucose (a simple sugar). The great advantage of the proposed high nutrient content of high amounts of protein (20%) coming only from whey protein concentrate (WPC). Excellent taste and no problems with solubility definitely you will fall to your taste!

PREPARATION OF THE HIGHEST QUALITY CAUSED for demanding athletes! Will easily IF TOR. "Hardgainers".

6PAK Nutrition Gain Pak is a nutritional carbohydrate-protein, through which easily will complete deficiency of nourishing substances and the most important B vitamins (B1, B2, B6, B12) and minerals (potassium, magnesium, sodium) in your diet. Each serving is not only a relief for the palate, but also a solid dose of calories, which will help you balance the daily diet. B vitamins have a positive effect on the rate of re-synthesis of glycogen in the liver and muscles. In addition, entering into the composition of many digestive enzymes support the normal course of metabolism of nutrients (carbohydrates, proteins, fats).

During intensive and demanding training comes to an increased loss of minerals by the body (and afterwards). That's why 6PAK Nutrition Gain Pak has been enhanced with the most important electrolytes such as potassium, magnesium and sodium - are necessary to maintain proper muscle and water management. They also help maintain the efficient transport of glucose in the blood. With the addition of vitamins and minerals you will be able to maintain full productivity of muscles even during prolonged workouts!

INDUSTRY AND Rich in nutrients.

Formula 6PAK Nutrition Gain Pak was based mainly on complex carbohydrates (maltodekstrynach) and the addition of a simple sugar (glucose). Carbohydrates are the primary source of energy for all body cells. It is understood that their consumption during exercise translates to a reduction in fatigue and ability to continue to exercise. Glucose has a simple structure, which allows you to quickly penetrate into the blood thus providing an excellent source of energy during intense training. Increased capacity of muscle is determined by maintaining the right amount of glucose available for working muscles. Carbohydrates are critical for fast replenish muscle glycogen - thus greatly speeding up the process of post-workout regeneration. In addition, they influence the process of "ejection of insulin", which is a very positive effect on the transport of nutrients to the cells of the body (including muscle).

HIGH caloric content of each serving. UP TO PROVE accelerates the process of muscle tissue.

6PAK Nutrition Gain Pak does not contain proteins of vegetable origin, which are not wholesome source of amino acids for the athlete's body. Research conducted by Goodin'a et al. Have shown that consumption of 50 g of soy protein has (the most common source is soy protein isolate - SPI) over an extended time period can reduce fertility by as much as 19%. It should read labels, because soy protein is found even in bread.

INCLUDES ONLY ANIMAL PROTEIN SOURCES!

6PAK Nutrition Gain Pak a high content of protein of animal origin, an amino acid profile which is very similar to the standard (aminogram human protein). Protein is an essential component in the body's cells. Intensive workouts increase the demand for this very important nutrient. They provide a positive nitrogen balance, which is necessary both for the rapid occurrence of regenerative processes, as well as anabolic. In other words, the right amount of protein in the diet is conducive to building lean muscle mass. Workouts lead to damage to the muscle fibers, where reconstruction and growth are conditional access to the building blocks, which are the essential amino acids and branched chain (BCAA). Their very rich source is whey protein concentrate (WPC), which was used in this preparation was. It has a very high biological value, and its use immediately after exercise promotes rapid restoration of damaged muscle. An additional advantage is naturally present in the whey immunoglobulins (antibodies) to support the body's natural immunity athlete.

6PAK NUTRITION GAIN PAK - CONDITIONER FOR THE MOST DEMANDING!

Literature:
[1]. Goodin S, Shen F, Shih WJ, Dave N, Kane MP, Medina P, Lambert GH, Aisner J, Gallo M, DiPaola RS., Clinical and biological activity of soy protein powder supplementation in healthy male volunteers. Cancer Epidemiol Biomarkers Prev. 2007 Apr;16(4):829-33.
[2]. Celejowa I.: Żywienie w sporcie. Wyd. PZWL, Warszawa 2008.
[3]. Igor M.: Witaminy i minerały czyli solidne podstawy. Fitness Authority, 2007, 12(28), 34-35
[4]. Maria Dymkowska-Malesa, Zbigniew Walczak, SUPPLEMENTATION IN SPORT, Nowiny Lekarskie 2011, 80, 3, 199–204
[5]. Coggan M.: Carbohydrate ingestion and exercise – Effects on metabolism and performance. Sports Sci. Exch., 1999, 12(4), 24-31.
[6]. Forth P.: Węglowodany. Kultur. i Fitn., 2008, 4(98), 33-34.
[7]. Kennedy R.: Bodybuilding. Sterling Publishing Co, New York 2006.


Recommended use:
Dissolve 2 scoops of powder (100 g) in 200 ml of water or skimmed milk. Consume in the morning, before or after training.