Description
BEST SET OF VITAMINS AND MINERALS MARKET
COMFORTABLE SYSTEM SACHETS
GIANT NUMBER OF NATURAL INGREDIENTS
COMPREHENSIVE AND INDUSTRY COMPOSITION
1 PACKAGE TO 15 SACHETS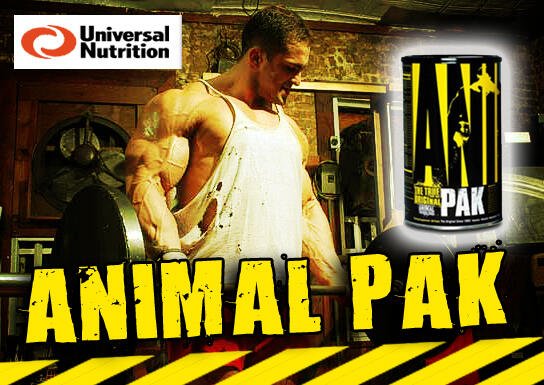 Ever wonder which product vitamins and minerals is the best and why? I hasten to answer. This is Animal Pak because there is no other such a complex product on the market, which has been recognized by bodybuilders worldwide.

Animal Pak ™ - 17 years selling training pak in the world. Since 1984, Animal Pak ™ has become the most popular means of bodybuilding supplements in history. Why? It's easy.

Animal Pak works. For the first time. For the last time. Whenever!!!

In all her ingenuity, she has designed the human body as a machine the ultimate performance. It's a fact, since the beginning of mankind, our bodies have changed very little. As for the "feeding" our muscles, we still need the nutrients we get from our diets. But when it comes time to grow our muscles in a freakish way, we need the right combination and the respectively higher doses of amino acids, carbohydrates, vitamins and minerals.

Only Animal Pak ™ has what you need. You're the kind of primal beast who trains with Animal intensity. You need plenty of these substances, as well as a few extras, which also are included in Animal Pak ™. In each pack you get a dizzying array of over 55 key ingredients which are delivered in the right quantities and at the right time. Each of the 11 tablets included in the package was created specifically to provide you with the necessary elements.

By taking the Animal Pak, you prevent the formation of nutritional gaps. Why should you care? The greater your training intensity, the faster they grow, these shortcomings and that are larger. When that happens, eventually you hit a plateau. You stop growing. Maybe you've already hit this wall. To make matters worse, if you take other supplements, these same gaps begin to render those expensive supplements useless. Many of today's supplements rely on enzymes and other substances in your body to "activate" them. Deficiencies in your body mean these key activators may not function at all, so you may find that you are wasting your hard earned money on supplements that will not or can not act.

Imagine that the Animal Pak ™, a cast iron skillet of your supplement program, the first line of defense of your body. If you train weightlifting, the Animal Pak ™ is a must. Remember, while most supplements have come and gone, precious few have stood the test of time. When you are ready to choose the best means to select the best name in serious bodybuilding Animal Pak ™.
Zalecane spożycie:
Dzień Treningowy:
1 porcja dziennie
Dzień Nietreningowy:
1 porcja dziennie
UWAGA - kopiowanie oraz rozpowszechnianie opisów produktów zamieszczonych w sklepie BODYPAK.PL jest zabronione!
Zgodnie z Ustawą z dnia 4 lutego 1994 r. o prawie autorskim i prawach pokrewnych (Dz. U. z 2006 r. Nr 90, poz. 631 z późn. zm.)
Suplement diety / Środek spożywczy zastępujący całodzienną dietę, do kontroli masy ciała.
Nie może być stosowany jako zamiennik bądź substytut zróżnicowanej diety.
Nie należy przekraczać zalecanego dziennego spożycia.
Produktu nie należy podawać matkom karmiącym oraz kobietom w ciąży.
Przechowywać w miejscu niedostępnym dla małych dzieci.
Przechowywać w suchym miejscu, w temperaturze pokojowej do 25°C. Chronić przed światłem.
Composition
| | | | |
| --- | --- | --- | --- |
| Serving Size: | 2 sasz. | | |
| Servings Per Container: | 7.5 | | |
| Packing: | 15 sasz. | | |
| Content | 1 serving: | | % RWS * |
| | Vitamin A [as acetate and carotenoids (beta-carotene and alpha)] | 2973μg | 372% |
| | Vitamin C [ascorbic acid, ascorbic palmitate] | 1000mg | 1250% |
| | Vitamin D [as cholecalciferol] | 17μg | 340% |
| | Vitamin E [as d-alpha, beta-d, gamma-d, d-delta tocopherols and tokotriole] | 201mg | 1675% |
| | Thiamine [As mononitrate] | 76mg | 6909% |
| | Riboflavin | 76mg | 5429% |
| | Niacin [as nicotinamide] | 82mg | 513% |
| | Vitamin B6 [pyridoxine AKG as well as pyridoxine HCL] | 180mg | 12857% |
| | Folic Acid | 400μg | 200% |
| | Biotin | 300μg | 600% |
| | Pantothenic Acid | 76mg | 1267% |
| | Calcium | 2000mg | 250% |
| | Phosphorus | 1330mg | 47% |
| | Iodine [as potassium iodide] | 150μg | 100% |
| | Magnesium [as magnesium oxide] | 400mg | 107% |
| | Zinc [as zinc oxide] | 30mg | 300% |
| | Selenium [as sodium selenite] | 50μg | 91% |
| | Copper [As sulphate] | 0,6mg | 60% |
| | Manganese [As sulphate] | 5 mg | 250% |
| | Chromium [as chloride] | 60μg | 150% |
| | Potassium [As sulphate] | 200mg | 10% |
| | - Amino Acid Mixture | | |
| | Alanine | 279mg | |
| | Arginine | 1213mg | |
| | Aspartic acid | 498mg | |
| | Cystine | 110mg | |
| | Glutamic acid | 653mg | |
| | Glutamine | 174mg | |
| | Glycine | 180mg | |
| | Histidine | 92 mg | |
| | Isoleucine (BCAA / EAA) | 284mg | |
| | Leucine (BCAA / EAA) | 509mg | |
| | Lysine (EAA) | 418mg | |
| | Methionine (EAA) | 125mg | |
| | Phenylalanine (EAA) | 192mg | |
| | Proline | 203mg | |
| | Serine | 250mg | |
| | Threonine (EAA) | 283mg | |
| | Tryptophan (EAA) | 81mg | |
| | Tyrosine | 164mg | |
| | Valine (BCAA / EAA) | 289mg | |
| | - Blend Raised physical fitness | | |
| | Uni-Liver | 4080mg | |
| | Carnitine | 25mg | |
| | Choline bitartrate | 250mg | |
| | Euthero (root) | 1750mg | |
| | Fruit Hawthorne | 250mg | |
| | Inositol | 125mg | |
| | Milk Thistle (seed) | 500 mg | |
| | Oriental Ginseng (root) | 2000mg | |
| | Para-amino benzoic acid (PABA) | 400mg | |
| | Alpha-ketoglutarate pyridoxine | 200mg | |
| | - The complex of antioxidants | | |
| | Alpha lipoic acid (ALA) | 100mg | |
| | Citrus bioflavonoids | 1000mg | |
| | Coenzyme Q10 | 5 mg | |
| | Grape seed extract | 50mg | |
| | Lutein | 1mg | |
| | Lycopene | 1mg | |
| | Pine bark extract | 200mg | |
| | - Enzyme complexes | | |
| | Bromelain | 100mg | |
| | Inulin | 250mg | |
| | Lipase | 10mg | |
| | Papain | 64mg | |
| | VegPeptase 2000 (TM) | 64mg | |
| | Other ingredients: dicalcium phosphate, whey protein concentrate b> (milk) b>, microcrystalline cellulose, glucose polymers, arginine alpha-ketoglutarate, dried beef liver (Argentine), stearic acid, arginine HCl, magnesium stearate, calcium carbonate, silicon dioxide, d-calcium pantothenate, Aspergillus niger, bacillus subtilis, lecithin b> calcium citrate, fumarate carnitine, calcium citrate, kelp, alfalfa, wild rose, bran rice, parsley, burdock, glazing agent of the pharmaceutical quality. | | |
* % Referencyjna wartość spożycia