HIGH QUALITY COMPLEX VITAMIN-MINERAL
THE BALANCED DOSE
PROVIDES QUICK ADDITION POSSIBLE DEFICIENCIES IN THE DIET
VERY HYGIENE DOSAGE 1 SACHET = 1 SERVING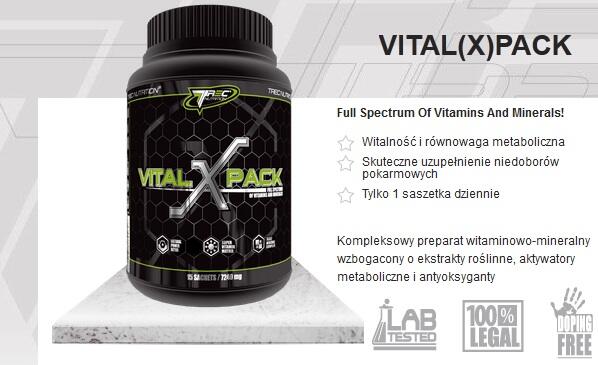 Trec VITAL (X) PACK is a valuable nutritional complex, which is a perfect complement to the daily diet professional athletes and active people physically and mentally. This is a carefully selected combination of vitamins, minerals, fatty acids, plant extracts with stimulating and cleansing, as well as essential metabolic activators and antioxidants. VITAL (X) PACK supplements nutritional deficiencies, improves immunity of the body and increases the level of vitality. The product provides energy for the whole day and helps restore metabolic imbalance.

Trec VITAL (X) PACK provides the body with appropriately selected and balanced nutrients ie vitamins (A, C, B1, B2, B3, B5, B6, B11, B12, D, E, H) macro and micronutrients (Ca, Mg, K, Zn, Fe, Mn, B, Cu, Cr, Se, V, Mo, I), plant extracts as strengthening, energizing and stimulating (Gurana, Ginseng). The product also contains a complex nutritional cofactors which enhance the immune system and accelerate the regeneration of the organism ie choline, inositol, PABA, nucleic acids RNA and DNA, bioflavonoids, algae, Omega 3 fatty acids, and others. Demand for the / in the ingredients significantly increases the body is burdened eg .: during intense workouts (especially in the building mass, muscle strength and endurance), during dieting or prolonged mental effort. Poorly balanced and uniform diet, which does not supply sufficient amounts of these nutrients is often the cause of mental vulnerability and immune function, decrease in physical fitness, lack of concentration and apathy accompanied by constant fatigue.

Trec VITAL (X) PACK is a product of a very broad and multilateral action. It not only helps restore the imbalance of the body, but promotes good health and helps maintain a high level of vitality and energy throughout the day.
The recommended daily dosage: 1 sachet
Journal. T.: Once a day 1 sachet about 30 minutes after a meal.
NT. Once a day 1 sachet about 30 minutes after a meal
UWAGA - kopiowanie oraz rozpowszechnianie opisów produktów zamieszczonych w sklepie BODYPAK.PL jest zabronione!
Zgodnie z Ustawą z dnia 4 lutego 1994 r. o prawie autorskim i prawach pokrewnych (Dz. U. z 2006 r. Nr 90, poz. 631 z późn. zm.)