By
Magda Suchan
Smoothie bowl to już nie zwykłe smoothie, to prawdziwa micha obfitości, która może być zarówno propozycją śniadaniową, potreningową, jak i deserową. Od smoothie różni się tym, co dodamy do zblendowanej już masy - w praktyce oznacza to, że zjedzenie takiego posiłku zajmie nam więcej, niż 15 sekund, dodatkowo nasyci nas bardziej.

Ilość przepisów na smoothie bowl jest nieskończona, ogranicza Cię tu jedynie zawartość lodówki i wyobraźnia ;) Dziś zaproponuję swoją wybraną wersję, ale najpierw przedstawię kilka pomysłów na bazę, która będzie dobrym punktem wyjścia dla kolejnych kombinacji.

1. BANAN - najlepiej zmrożony, wówczas nada mieszance bardziej zbitą, lodową postać.
2. AWOKADO - świetne źródło tłuszczu, ale też sposób na kremową konsystencję.
3. OWOCE - w wyborze absolutna dowolność! Owoce jagodowe rewelacyjnie sprawdzą się w zmrożone.
4. ZIELENINA - ilość zależy od tego, jak bardzo ją akceptujesz ;) A co można dodać? Szpinak, jarmuż, seler naciowy, natkę pietruszki, liście rzodkiewki, sałaty, cukinię - żeby nie marnować resztek, nie miej oporów przed mrożeniem.
5. WODA? Może być, ale możesz spróbować też mleka roślinnego, jogurtu, wody kokosowej.
6. TROCHĘ TŁUSZCZU - zależy, jak bardzo sycący ma być ten posiłek. Możesz dodać trochę oliwy czy dowolnego oleju.
7. TROCHĘ BIAŁKA - jeśli zależy Ci na tym, żeby w posiłku było jego konkretne źródło, możesz dodać np. białko w proszku (serwatka/białko roślinne).
8. CO NA WIERZCH? Kiedy zblendujesz już smoothie, pora na dodatki: płatki owsiane, ryżowe, jaglane, kasza gryczana, jaglana, wiórki lub chipsy kokosowe, kakao, pestki dyni, słonecznika, siemię lniane, nasiona chia, migdały, orzechy, pokrojone owoce, owoce jagodowe.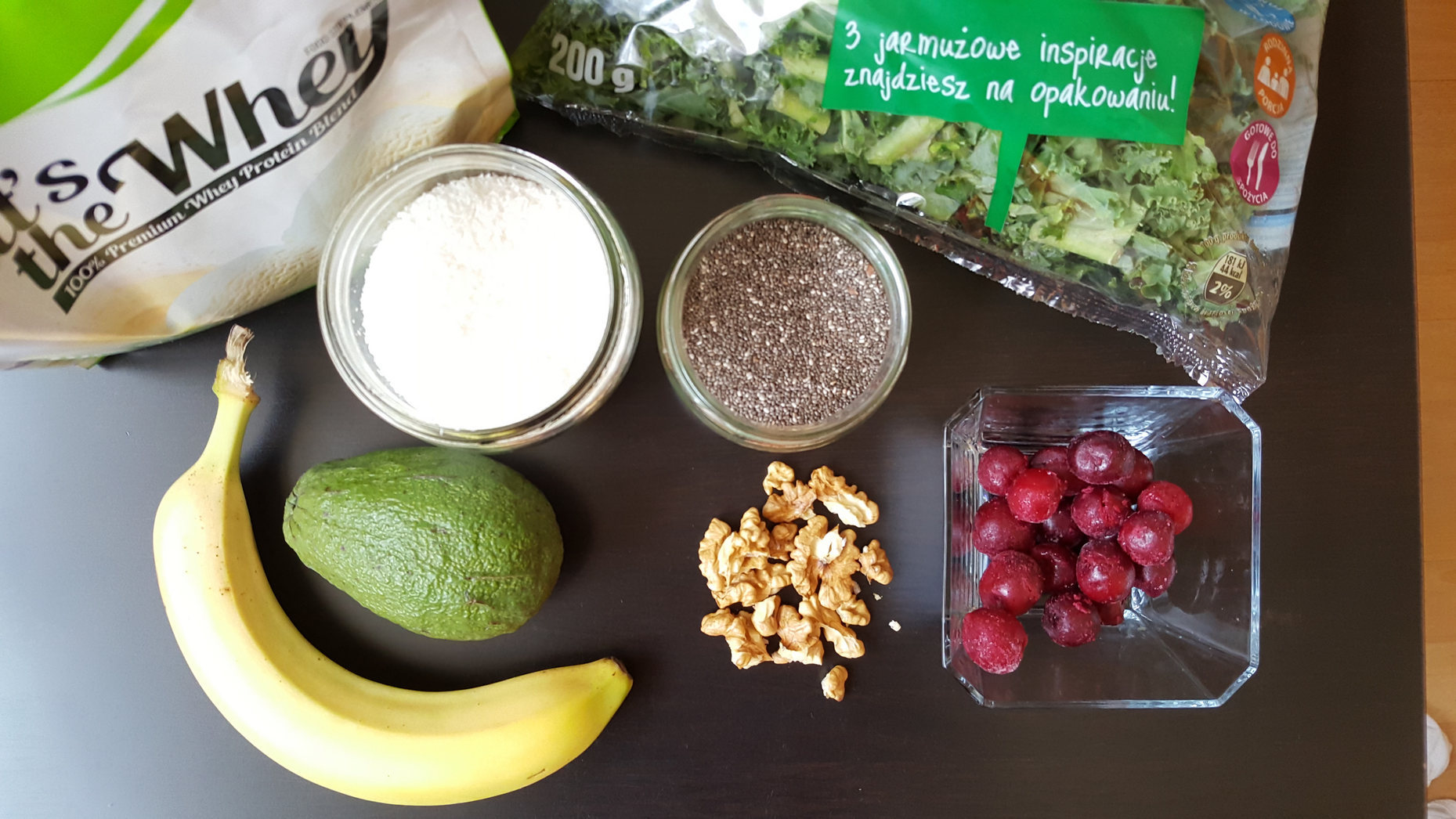 MOJA smoothie bowl:
miarka białka - u mnie That's the Whey o smaku lodów waniliowych do kupienia w BODYPAK.PL
jarmuż - dużo!
zmrożony banan
mrożone wiśnie
pół awokado
woda mineralna

Na wierzch dodałam:
nasiona chia
siemię lniane
wiórki kokosowe
orzechy włoskie
wiśnie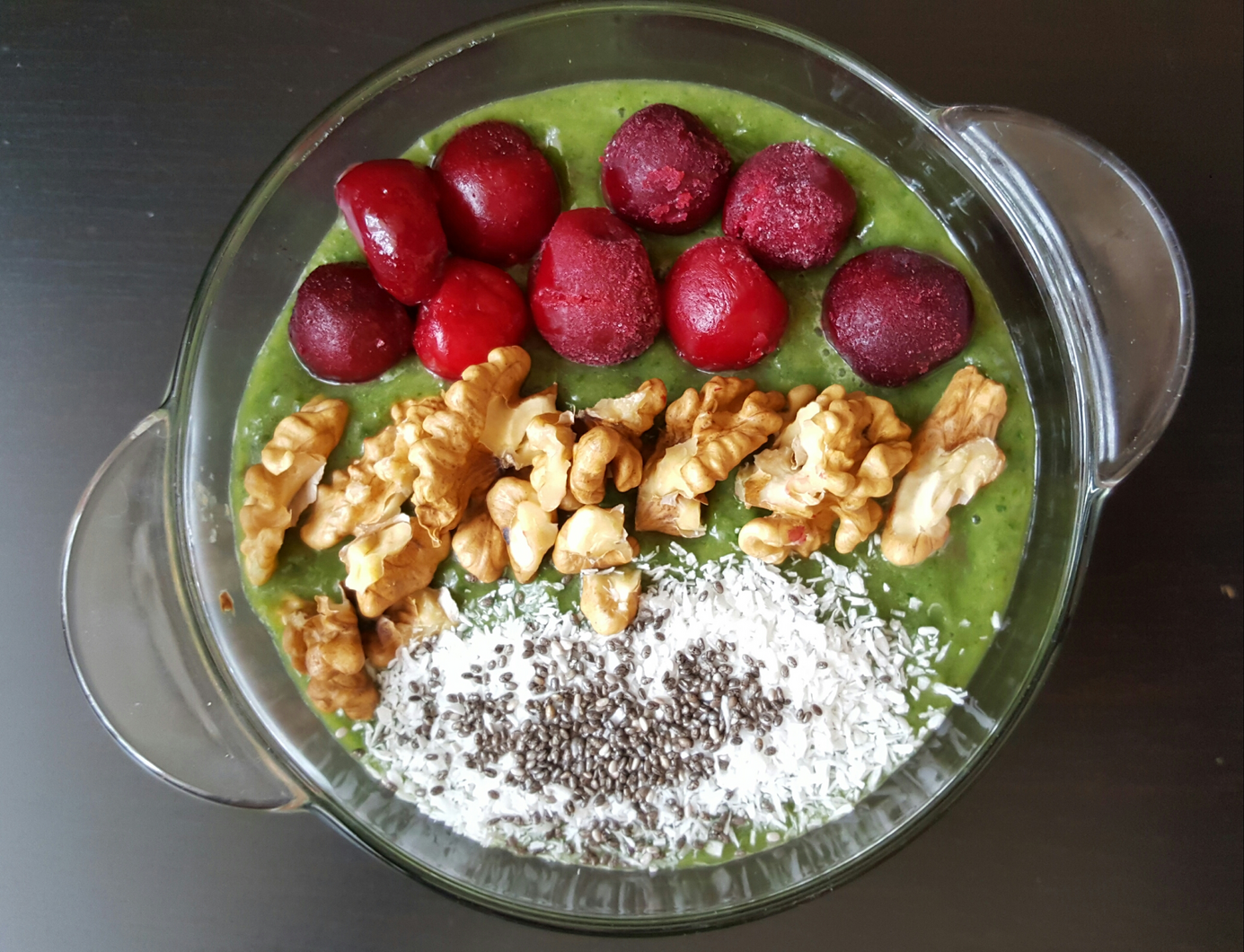 Ile kcal sobie zaserwowałam? Około 700 kcal, w tym 35g białka, 35 g tłuszczu i 60 g węglowodanów.