By
Izabela Mencel
Omlety i pankejki to bardzo popularna forma śniadania! I to bardzo zrozumiałe, ponieważ zjedząc rano "coś na słodko" nie będzie nam się później chciało podjadać słodyczy. Ja tym razem wykorzystałam bardzo szybką i prostą metodę przyrządzenia posiłku, mianowicie gotowe pancake w proszku z firmy Trec Nutrition. Zdecydowanie się nie zawiodłam, ponieważ wyszły puszyste i idealne, a co najlepsze zrobiłam je w ekspresowym tempie. Usmażyłam je na małokalorycznym oleju w sprayu, i dodałam przepyszny krem proteinowy oraz owoce.
Składniki:
6 miarek proszku Protein Pancake od Trec Nutrition
100 ml wody
olej w sprayu (dwa psiknięcia)
Krem proteinowy od Trec Nutrition
owoce
Sposób przygotowania:
Proszek zmieszać z wodą, tak aby nie pozostawić żadnych grudek. Patelnię spryskać olejem i postawić na ogniu. Wylać powstałą masę na rozgrzany olej i smażyć około minutę na każdej stronie.
Gotowy naleśnik zdjęć z patelni i nałożyć krem proteinowy oraz owoce.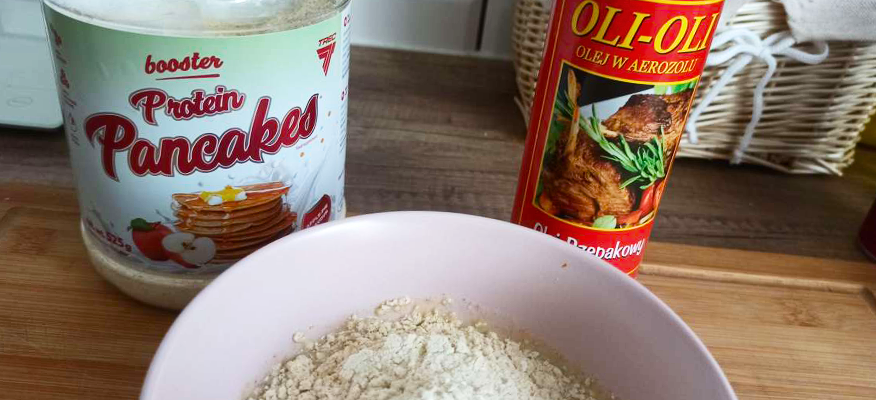 Można zrobić kilka mniejszych placuszków z tej masy. Ja akurat postawiłam na jeden większy, bo tak jest trochę szybciej .
Makro takiego naleśnika bez dodatków to 293 kcal w tym: T-7,8 g, W-28.7 g, B-23.6 g.