HIGH AMINO BCAA (2: 1: 1) IN THE FORM OF INSTANT
SOLID DOSE OF L-GLUTAMINE PER SERVING
INTERESTING IN THE FORM OF VITAMIN SUPPLEMENTS (B6, C) AND TAURINE,
REFINE TASTE AND SOLUBILITY
AND INHIBITS CATABOLISM OKOŁOTREINGOWY PROTECTING MUSCLES AGAINST DECOMPOSITION
ACCELERATES POSTPRANDIAL REGENERATION AND ANABOLIC
DOES NOT CONTAIN ASPARTAME (ASPARTAME FREE)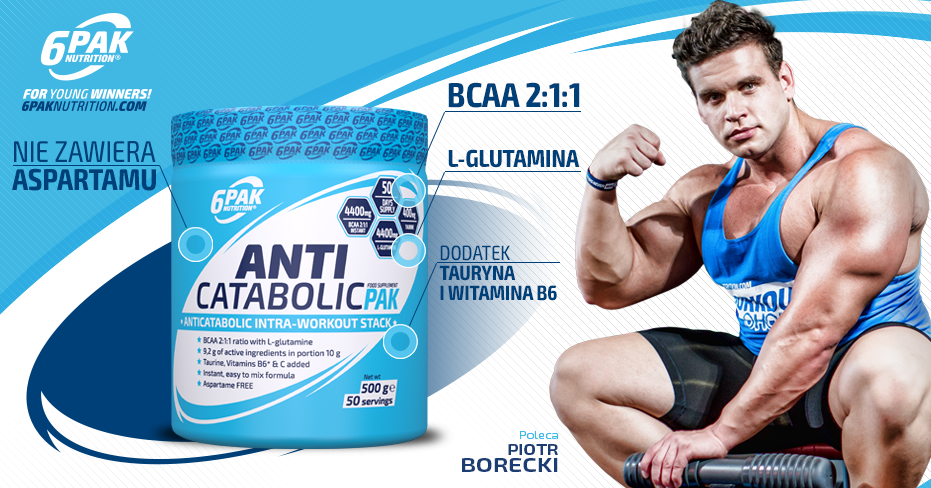 6PAK Nutrition Anticatabolic PAK is an advanced formulation based on high quality BCAA (ratio 2: 1: 1), vitamins, taurine and L-glutamine! Interesting flavor compositions and seamless solubility of each portion is a huge advantage of this preparation. Reduces catabolism, while accelerating regenerative processes and anabolic! It strengthens the immune system.

PROTECTS MUSCLES against catabolism, it SUPPORTS THEIR REGENERATION and accelerates the anabolic!

Introduction to the supplementation of this product will bring many benefits, such as protection of body tissues (including muscle) before the break and support their recovery post-workout. Thanks to the high dose of the amino acid is maintained positive nitrogen balance in the body, which also allows you to maximize the anabolic processes. By using instanizowanej form of branched chain amino acids to prepare each serving not cause you any problems.

DOES NOT CONTAIN OR aspartame frills and fillers!

BCAA branched amino acids account for about 35% of lean muscle mass, so we take care of them the right amount in your daily diet. Unfortunately, they are not synthesized by the body, so there is a need to provide them, eg. With the help of a professional supplement (such as Anticatabolic PAK). Formulation used in the optimal ratio of 2: 1: 1, respectively L-leucine, L-isoleucine and L-valine.

VALUABLE EXTRAS

Vitamin C has a positive effect on the body's resistance to all kinds of infections. It has strong antioxidant properties allowing less free radicals. It is worth noting that the increased amounts of this vitamin accelerate the process of synthesis of new collagen proteins needed for quick regeneration of joints. It is well known effect of vitamin C on normalization of cortisol, which is called the stress hormone, and may lead to the breakdown of the body's tissues (where the concentration is maintained high for a long time).

Vitamin B6 helps to maintain proper metabolism of proteins and glycogen and the proper energy metabolism and also helps in the proper functioning of the nervous system. It also takes part in blood formation - is therefore extremely important for the body of every human being.

Taurine - thanks to the action on the same receptors as the insulin, its influence on improving the transport of nutrients (including amino acids and creatine). He is a frequent addition to supplementation okołotreningowej many celebrated athletes and aims to improve the digestibility of the whole preparation.

L-glutamine is one of the essential precursors for the synthesis of proteins and other amino acids such as ornithine, arginine, citrulline and proline. It is also essential in the formation of glucose, the changes are an important energy source for many of the body's cells [De Bandt and De Bandt, 1998]. It also has anti-catabolic properties, which are often underestimated by novice athletes. It supports muscle recovery, reducing the time it takes to return to full form. It is an endogenous amino acid having a huge role in the metabolism of nitrogen, thus affecting the rate of synthesis of new proteins of the body. It helps reduce the formation of lactic acid, which directly affects the rate of post-workout regeneration.

6PAK NUTRITION ANTICATABOLIC PAK - I CAN EASY GO IN TRAINING!

* Any Bryl powder is not a fault and does not affect the operation of the product.

[1]. Peters EM, Anderson R, Nieman DC, Fickl H, Jogessar V. Vitamin C supplementation attenuates the increases in circulating cortisol, adrenaline and anti-inflammatory polypeptides following ultramarathon running., J Sports Med. 2001 Oct;22(7):537-43
[2]. Rożnowska K., Witaminy i biopierwiastki, Kraków 1996
[3]. Normy żywienia dla populacji polskiej– nowelizacja, pod red. Jarosz M., wyd. Instytut Żywności i Żywienia, Warszawa 2012
[4]. De Bandt J.P., Cynober L.A.: Amino acids with anabolic properties. Curr. Opin. Clin. Nutr. Metab. Care., 1998; 1: 263–272
[5]. Roth E.: L-arginine – nitric oxide metabolism. Glutamine: a new player in this metabolic game? Clin. Nutr., 1998; 17: 1–2
Recommended use:
1 serving in the area of training.
Uwagi:
Suplement diety / Środek spożywczy zastępujący całodzienną dietę, do kontroli masy ciała.
Nie może być stosowany jako zamiennik bądź substytut zróżnicowanej diety.
Nie stosować w przypadku uczulenia na którykolwiek ze składników produktu.
Nie należy przekraczać zalecanego dziennego spożycia.
Zalecany jest zrównoważony sposób żywienia i zdrowy tryb życia.
Produktu nie należy podawać matkom karmiącym oraz kobietom w ciąży.
Przechowywać w miejscu niedostępnym dla małych dzieci.
Przechowywać w suchym miejscu, w temperaturze pokojowej do 25°C. Chronić przed światłem.
© UWAGA OPIS AUTORSKI BODYPAK - kopiowanie oraz rozpowszechnianie opisów produktów zamieszczonych w sklepie BODYPAK.PL jest zabronione!
Zgodnie z Ustawą z dnia 4 lutego 1994 r. o prawie autorskim i prawach pokrewnych (Dz. U. z 2006 r. Nr 90, poz. 631 z późn. zm.)
Cena za jeden opis naszego autorstwa wynosi 10 000 zł netto.