Universal Nutrition Storm
AŻ 6 RÓŻNYCH FORM KREATYNY (BARDZO ANABOLICZNY MIX)
DZIAŁA ANABOLICZNIE I ANTYKATABOLICZNIE
DODATEK ZWIĄZKÓW POPRAWIAJĄCYCH TRANSPORT I WCHŁANIANIE KREATYNY
PRZYSPIESZA REGENERACJĘ POTRENINGOWĄ
SKUTECZNA I BEZPIECZNA FORMUŁA
GRAMATURY MOGĄ SIĘ RÓŻNIĆ W ZALEŻNOŚCI OD SMAKU

UNIVERSAL STORM jest produktem opartym o mix aż 6 anabolicznych form kreatyny oraz związków wspomagających ich wchłanianie i transport. Sprawia to, że możesz uzyskać maksymalne efekty z suplementacji Kreatyną! Bogaty skład tego produktu gwarantuje poprawę możliwości wysiłkowych organizmu, już w krótkim czasie. Zawiera opatentowaną wersję beta alaniny, która jest najlepszą i najskuteczniejszą postacią na rynku.

GLUKONIAN KREATYNY, OROTAN KREATYNY, ALFA-KETOGLUTARAN KREATYNY, MONOWODZIAN KREATYNY, JABŁCZAN DWU-KREATYNY, CHYLAT MAGNEZOWY KREATYNY - MIESZANKA SZEŚCIU RODZAJÓW KREATYNY.

Kreatyna to nie tylko silna i bezpieczna substancja, wpływa także na szereg funkcji w organizmie, które warunkują zdrowie i dobrą formę. Bierze udział w transporcie i odbudowie ATP – ATP pełni funkcję nośnika energii w naszym organizmie, bez niego przebieg większości reakcji, poczynając od prostych syntez po skurcz mięśnia, byłby niemożliwy. Kreatyna dzięki umiejętności wiązania grup fosforanowych (przemienia się wtedy w Fosfokreatynę) uczestniczy, we wspomnianych, transporcie i odbudowie ATP.

Ten niesamowity związek chemiczny większa tempo syntezy protein – dzięki zwiększeniu ilości wody zatrzymywanej w komórkach mięśniowych przyczynia się do powstania bardziej anabolicznego (sprzyjającego wzrostowi) środowiska. Kreatyna hamuje katabolizm – dzięki swoim zdolnościom buforującym pomaga w utrzymaniu odpowiedniego poziomu pH w mięśniach. Jest to o tyle istotne, że większość enzymów, odpowiedzialnych za rozpad tkanki mięśniowej, może działać tylko w bardzo kwaśnym środowisku.

Kreatyna znajdująca się w UNIVERSAL STORM wykazuje także właściwości antyoksydacyjne – pomaga zwalczyć, niebezpieczne dla zdrowia, wolne rodniki. Ich działalność w skrajnych przypadkach może prowadzić nawet do wytworzenia się nowotworów – warto się przed nimi zabezpieczać. Dodatkowo zapobiega szeregowi szkodliwych efektów powstających z powodu utleniania podczaswysiłkowego. Pomaga chronić serce zarówno w sposób bezpośredni, ponieważ w sercu znajduje się duże stężenie kreatyny, jak i pośrednio poprzez regulowanie poziomu cholesterolu i ochronę przed skutkami nadmiernego stresu.

Inne składniki preparatu, których obecność potęguje jego właściwości :

L-Tauryna – pomaga w regulacji poziomu cukru we krwi, wykazuje działanie antykataboliczne (ogranicza proces rozpadu białek), zwiększa stężenie azotu w organizmie oraz pomaga obniżyć poziom cholesterolu. Bardzo istotny jest fakt, że Tauryna stymuluje trzustkę do wydzielania insuliny. Czyni to jednak w inny sposób niż glukoza, a tym samym zmniejsza ryzyko powstania insulinoodporności, która prowadzi do rozwoju cukrzycy. Dzięki temu możemy cieszyć się wszystkimi zaletami insuliny – silnego anabolika – bez obawy o nasze zdrowie.

Jabłczan Cytruliny – jest prekursorem kreatyny, bierze udział w procesie skurczu mięśni oraz uczestniczy w powstawaniu tlenku azotu – związku odpowiedzialnego za m.in.: rozszerzanie naczyń krwionośnych i tym samym ułatwiającego transport innych związków do i z mięśni.

Alfa-Ketoglutaran L-Argininy - bierze udział w powstawaniu tlenku azotu i tym samym wykazuje zdolność do rozszerzania naczyń krwionośnych, pozwalając na lepsze ukrwienie mięśni i tkanek miękkich. W sposób pośredni uczestniczy w syntezie cGMP, które wraz z ATP, bierze udział w procesie skurczu mięśni oraz wykazuje działanie anaboliczne. Wpływa na wydzielanie hormonu wzrostu, wspiera proces regeneracji wątroby, jest ważnym prekursorem dla kreatyny.

Beta-Alanina (CarnoSyn) – wraz z Histydyna wchodzi w skład Karnozyny, tym samym pomaga w usuwaniu szkodliwych produktów powstających podczas przemian metabolicznych towarzyszących wysiłkowi fizycznemu. Tworzy również dipeptydy odpowiedzialne za "odkwaszanie" szybkokurczliwych włókien mięśniowych oraz prawidłową prace ATPazy (enzym biorący udział w procesie uwalniania energii).

ALA – kwas alfa-liponowy. Zwiększa wrażliwość komórek na insulinę, reguluje poziom cukru we krwi, wpływa na wychwyt glukozy oraz ilość dostarczanego tlenu, stymuluje produkcje tlenku azotu (rozszerza naczynia krwionośne a tym samym poprawia krążenie krwi), zapobiega schorzeniom wzroku (duże stężenie ALA możemy znaleźć właśnie w oku), wykazuje silną aktywność antyoksydacyjną, pozytywnie działa na koncentracje i odporność na stres.

4-Hydroksyizoleucyna - jej działanie polega na pobudzeniu trzustki do optymalnej produkcji insuliny (zależnie od ilości glukozy w krwioobiegu) bądź ochronie przed jej nadmiernym wydzielaniem (w przypadku diety z nadmierną ilością cukrów prostych). Dodatkowo 4-hydroksyizoleucyna zwiększa wrażliwość tkanek na insulinę, co przekłada się na zwiększony transport związków odżywczych do mięśni.

UNIVERSAL STORM – idealny produkt na udany cykl kreatynowy!


* możliwe są różnice w gramaturze produktu w zależności od wersji smakowej
750g - blue raspberry, 836g - grape spash, 750g - fruit punch
Zalecane spożycie:
Dzień Treningowy:
jedna porcja rano na czczo i jedna porcja po treningu.
Dzień Nietreningowy:
jedna porcja rano




Universal Nutrition Shock Therapy
WIELOSKŁADNIKOWY I SKUTECZNY BOOSTER PRZEDTRENINGOWY
WYSOKI KOMFORT NA TRENINGU
PONADCZASOWE DZIAŁANIE
PRZESZŁO 25 SUBSTANCJI AKTYWN0CYH W PORCJI!
OLBRZYMIA POMPA I CHĘCI DO TRENINGU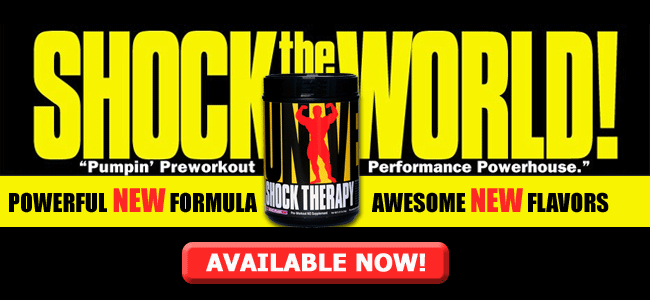 Universal Shock Therapy to produkt ponadczasowy, którego rzesza zwolenników rośnie z dnia na dzień. Nie dzieje się to bez powodu, bowiem spełnia on szereg wymagań jakie powinna spełnić idealna przedtreningówka. Zastanawiasz się o czym mowa? Dzięki Shock Therapy poczujesz co to znaczy niesamowite pobudzenie oraz koncentracja, ekstremalna pompa oraz niesamowite przyrosty po cyklu.

Wieloskładnikowy booster przed-treningowy - szybko podnosi poziom energetyczny organizmu, pompuje mięśnie, hamuje katabolizm, działa anabolicznie. Daje "kopa" abyś mógł ciężej i skuteczniej trenować – wynikiem czego będą o wiele szybsze przyrosty beztłuszczowej tkanki mięśniowej.

Universal Shock Therapy niezaprzeczanie działa, a jego siła pochodzi od dużej ilości substancji aktywnych, których porcje zostały tak dobrane by przy wykorzystaniu ich synergii efekt był oszałamiający. Poczujesz przypływ energii, szybszej regeneracji, efekt zmęczenia zostanie zmniejszony. W ostatecznym rozrachunku Twoje treningi będą wykonane na 110% z odpowiednią intensywnością – co gwarantuje lepsze efekty!

Dzięki zaawansowanemu składowi, w którym znalazł się kompleks antyoksydacyjny zabezpieczysz swój organizm przed działaniem wolnych rodników, czyli substancji bardzo niepożądanych mających wpływ na przyśpieszenie starzenia się organizmu a nawet mogących przyśpieszyć rozwój nowotworów.

NIE CZEKAJ – SIĘGNIJ PO SUKCES DZIĘKI UNIVERSAL SHOCK THERAPY!



* możliwe są różnice w gramaturze produktu w zależności od wersji smakowej
840g - hawaiian pump, 840g - jersey fresh peach tea, 840g - clyde's hard lemonade, 840g - grape ape

Zalecane spożycie:
Dzień Treningowy:
1-2 porcje przed treningiem
Dzień Nietreningowy:
Nie stosować
Uwagi:
Suplement diety / Środek spożywczy zastępujący całodzienną dietę, do kontroli masy ciała.
Nie może być stosowany jako zamiennik bądź substytut zróżnicowanej diety.
Nie stosować w przypadku uczulenia na którykolwiek ze składników produktu.
Nie należy przekraczać zalecanego dziennego spożycia.
Zalecany jest zrównoważony sposób żywienia i zdrowy tryb życia.
Produktu nie należy podawać matkom karmiącym oraz kobietom w ciąży.
Przechowywać w miejscu niedostępnym dla małych dzieci.
Przechowywać w suchym miejscu, w temperaturze pokojowej do 25°C. Chronić przed światłem.
UWAGA - kopiowanie oraz rozpowszechnianie opisów produktów zamieszczonych w sklepie BODYPAK.PL jest zabronione!
Zgodnie z Ustawą z dnia 4 lutego 1994 r. o prawie autorskim i prawach pokrewnych (Dz. U. z 2006 r. Nr 90, poz. 631 z późn. zm.)