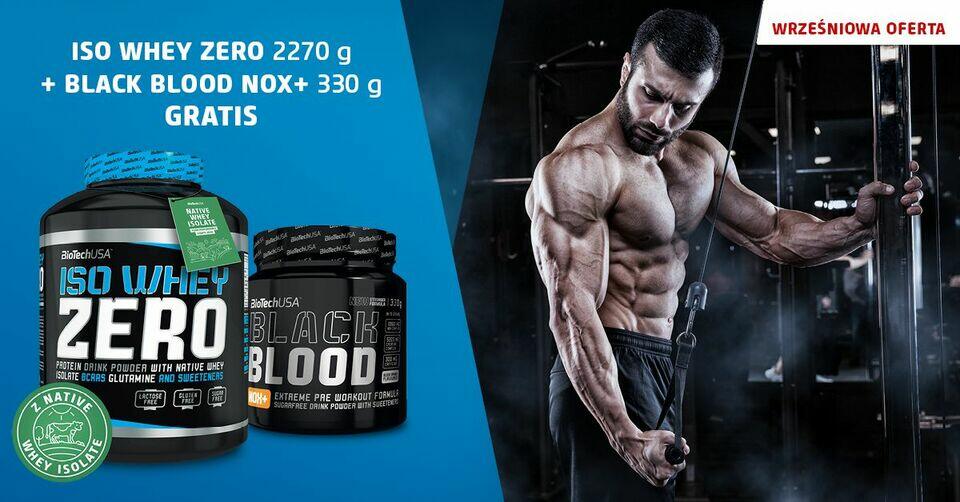 BioTech Iso Whey Zero
WYSOKIEJ JAKOŚCI IZOLATU BIAŁKA SERWATKI
ŹRÓDŁO BARDZO DOBRZE PRZYSWAJANYCH AMINOKWASÓW
ZERO TŁUSZCZY TRANS, DODATKU CUKRU, LAKTOZY ORAZ GLUTENU
BAZUJE NA ZNAKOMITYM SUROWCU JAKIM JEST NATIVE WHEY ISOLATE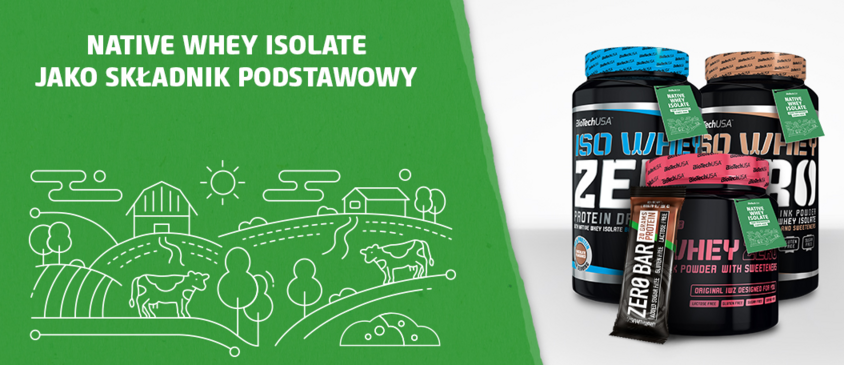 Iso Whey Zero: 100% źródło Native Whey Isolate* z dodatkowymi aminokwasami - trudno o wyższą jakość!
CO CZYNI GO TAK WYJĄTKOWYM?
- native whey nie jest półproduktem mleczarskim,
- pozyskiwany jest z mleka krów hodowanych w ekologicznych warunkach,
- surowiec jest wolny od antybiotyków i hormonów,
- filtracja przebiega w niskiej temperaturze co gwarantuje zachowanie wszelkich struktur biologicznie czynnych,
- zachowanie właściwości biologicznych takich frakcji jak immunoglobuliny.

"Native Whey jest nowym składnikiem. A dlaczego Native Whey jest wyjątkowy? Z dwóch powodów: ze względu na źródło pochodzenia i proces produkcji." Ulisses Jr. - Fitness Influencer
BioTech Iso Whey Zero jet profesjonalnym produktem, którego zastosowanie wiąże się ze zwiększonym ryzykiem ekstremalnych przyrostów tkanki mięśniowej, dzięki czemu już w krótkim czasie będziesz się cieszył wysportowaną i umięśnioną sylwetką. Jest to odżywka najwyższych lotów, której aminokwasy posiadają niezwykle anaboliczny potencjał. Wystarczą dwie porcje dziennie by cieszyć się w pełni wszystkimi zaletami tego białka. W składzie Iso Whey Zero znajdziesz wysokiej jakości izolat białek serwatki (WPI) otrzymywany metodą CFM - NIE ZAWIERA ZBĘDNYCH DODATKÓW I WYPEŁNIACZY! Preparat jest bogatym źródłem BCAA co oznacza dla Ciebie nic innego jak idealne zabezpieczenie przed katabolizmem potreningowym. Nie oszukujmy się – jest to produkt najlepszy w swojej klasie.

BioTech Iso Whey Zero - przeszło 85% białka z izolatu białek serwatki. Odzywka zawiera również olej MCT, BCAA, lecytynę. Preparat przeznaczony jest dla osób o zwiększonym zapotrzebowaniu na białko, które w szybki sposób wpływa na rozwój masy i siły mięśniowej

Jest wysoce cenionym suplementem, składającym się z protein pochodzących z WPI. Synteza zarówno tych jak i tysięcy innych białek w organizmie zależy od dostępności aminokwasów. W przeciwieństwie do magazynowanych węglowodanów czy tłuszczy organizm utrzymuje jedynie niewielki zapas aminokwasów. Niski pozom któregoś z podstawowych aminokwasów powoduje, że organizm może nie wytwarzać zależnych od niego białek.

Jednocześnie nawet krótkoterminowy deficyt aminokwasów może zaszkodzić procesowi naprawy i regeneracji zdrowych komórek. Dotyczy to zwłaszcza procesu wzrostu komórek mięśniowych. Na szczęście możemy łatwo zapobiec takiemu rozwojowi wydarzeń. Wystarczy stosować zrównoważona dietę, bogatą w wysokiej jakości proteiny.

Iso Whey Zero jest idealnym rozwiązaniem dla osób intensywnie trenujących, które jak nikt inny potrzebują szybko wchłanianych aminokwasów aby ich trening przynosił jak najlepsze rezultaty. Badania wykazały, że niedobór łańcuchów aminokwasów w powiązaniu ze wzmożonym wysiłkiem może prowadzić do spalania tkanki mięśniowej, ze względu na zapotrzebowanie organizmu na azot. Jedną spośród wielu funkcji spełnianych przez aminokwasy o rozgałęzionych łańcuchach BCAA jest asysta w procesie transportu tłuszczy do komórek w celu wyprodukowania porcji energii.

Stymuluje również przysadkę, która wytwarza hormon wzrostu zaangażowany w rozwój tkanki mięśniowej i wyzwalanie kwasów tłuszczowych z tkanki tłuszczowej (np. utrata tkanki tłuszczowej). BCAA dostarcza też organizmowi azotu. Aminokwasy dostarczane organizmowi przez 100 % Iso Whey są budulcem masy mięśniowej.
Iso Whey Zero jest bardzo wartościowym źródłem protein zapewniającym wysoki poziom aminokwasów zwłaszcza z grupy EAA.
Zalecane spożycie:
Dzień Treningowy:
1-3 porcje dziennie.
Dzień Nietreningowy:
1-3 porcje dziennie.


BioTech Black Blood NOX+
ZAAWANSOWANY SKŁAD OPARTY JEDYNIE O SKUTECZNE SUBSTANCJE AKTYWNE
ZAWIERA ODPOWIEDNIO WYSOKIE DAWKI POSZCZEGÓLNYCH SKŁADNIKÓW
POTĘGUJE EFEKT POMPY TRENINGOWEJ
WSPIERA ROZWÓJ MASY MIĘŚNIOWEJ ORAZ SIŁY FIZYCZNEJ
PRZYŚPIESZA REGENERACJĘ POTRENINGOWĄ
ZAPEWNIA SZYBKI ZASTRZYK ENERGII DZIĘKI SOLIDNEJ DAWCE KOFEINY

NAJNOWSZA odsłona popularnej przedtreningówki w bardzo dobrej cenie! Każda porcja zawiera aż 12 specjalnie wyselekcjonowanych substancji aktywnych gwarantujących maksymalną pompę treningową, szybki zastrzyk energii do działania oraz poprawę wydolności wysiłkowej całego organizmu. Nie zawiera dodatku cukru!

ZAWIERA AŻ 12 SPECJALNIE WYSELEKCJONOWANYCH SUBSTANCJI AKTYWNYCH!

BioTech Black Blood NOX+ - to wyjątkowy produkt, którego każda porcja jest pełna składników aktywnych mających za zadanie maksymalnie wesprzeć organizm w walce o zamierzone cele! Wyjątkowo skuteczna formuła NOX+ to aż 10500mg substancji potęgujących pompę treningową, wspierających regenerację oraz wzmagających procesy anaboliczne! Dodatkową zaletą jest solidna dawka kompleksu kreatynowego, którego siła anaboliczna jest wręcz niezrównana (jest to najbardziej anaboliczna substancja dostępna legalnie na rynku). Warto podkreślić, że nie zawiera dodatku cukru! Zawiera takie substancje jak: beta alanina, AAKG (alfa-ketoglutaran argininy), cytrulinę, kofeinę oraz wiele innych składników wspierających organizm w dążeniu do upragnionej formy.

BIOTECH BLACK BLOOD NOX+ - ŻADEN TRENING NIE BĘDZIE JUŻ TAKI SAM!



* Produkt może się brylić ze względu na higroskopijne właściwości składników aktywnych.
Zalecane spożycie:
1 porcja przed treningiem.
© UWAGA OPIS AUTORSKI BODYPAK - kopiowanie oraz rozpowszechnianie opisów produktów zamieszczonych w sklepie BODYPAK.PL jest zabronione!
Zgodnie z Ustawą z dnia 4 lutego 1994 r. o prawie autorskim i prawach pokrewnych (Dz. U. z 2006 r. Nr 90, poz. 631 z późn. zm.)
Cena za jeden opis naszego autorstwa wynosi 10 000 zł netto.