SUCCESSFULLY BUY YOUR BATTERIES IN EFFORT
APPENDIX CAFFEINE
3 DIFFERENT TYPES OF CARBOHYDRATES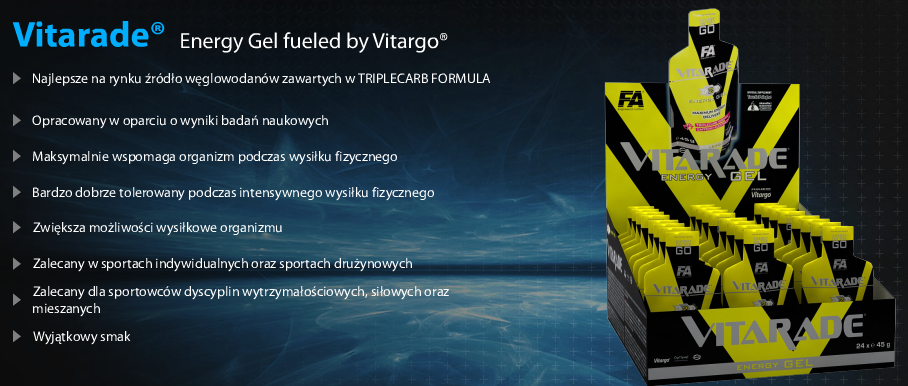 Vitarade® Energy Gel fueled by Vitargo® is the only product on the market, a carbohydrate gel designed based on the results of scientific research, including three different sources of carbohydrates enclosed in a single package. During the exercise the human body can use different types of carbohydrates, so you can be energy efficient, yet very intense muscle work. The source of energy may be either simple carbohydrates (glucose, fructose, trehalose, isomaltulose) and complex carbohydrates (maltodextrin, high molecular carbohydrates, such as amylopectin-like structure muscle glycogen). Providing the right amount and type of carbohydrates during exercise maximizes their use as an energy source, which limits the use of indigenous energy resources of the organism, ie. Muscle and liver glycogen. While sparing glycogen can no longer perform physical activity with very high intensity. In addition, delivered during exercise carbohydrates should be the least possible burden the digestive tract allowing for the execution of even the most intense physical activity.

Vitarade® Energy Gel fueled by Vitargo® providing three different types of carbohydrates allows maximum effective use during exercise. Carbohydrates contained in Vitarade® Energy Gel fueled by Vitargo® not burden the digestive tract and are rapidly absorbed from the intestinal lumen, making it very effectively support the body during exercise.

Why Vitarade® Energy Gel fueled by Vitargo®?

Making prolonged vigorous exercise requires a continuous supply of carbohydrates in the body. During exercise, the natural resources of muscle and liver glycogen depletion and are fast enough, depending on the diet for 60-75 minutes wysiłku.Dostarczenie carbohydrate "outside" allows the continuation of long-term intensive effort and ensures maximum use of the possibility of exercise the body. It is recommended that for every hour of exercise to take 1-1.2 g / kg / m.c., So 60-90g carbohydrates. Consumption of such large amounts of carbohydrates during competition or training for many athletes and active people is a problem and, unfortunately, often reduces exercise capacity of the body. Only provide the quality and quantity of carbohydrates ensures the maintenance of exercise intensity for a long period of time, delaying the appearance of fatigue. The most commonly used gels in the form of carbohydrates are glucose and its polymers, ie. Maltodextrin and high molecular carbohydrates (Vitargo®).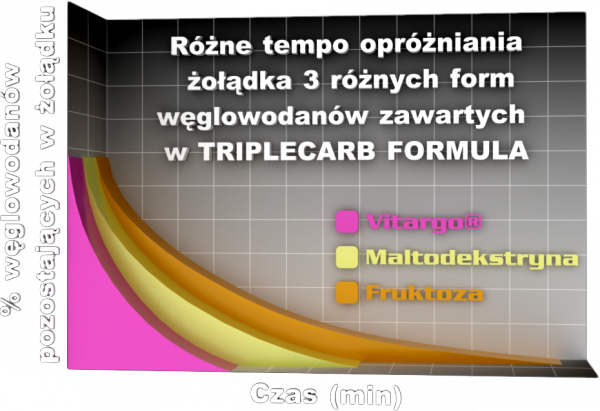 High molecular carbohydrates due to their low osmolality much faster than glucose and maltodextrin empty stomach so quickly appear in the bloodstream. High molecular carbohydrates like maltodextrins and decompose in the intestine to glucose, which is further transported from the lumen into the bloodstream by means of conveyors sodium-dependent glucose so. SGLT1 (Sodium-Dependent Glucose Transporters). Excessive supply of glucose polymers causes the glucose transporters are saturated, and carbohydrates in the intestines begin to fall behind giving the unpleasant feelings of fullness and pain. With the addition of fructose, which is transported by another conveyor tract so. GLUT-5, it is possible "dual-channel" providing carbohydrates, and therefore more effective support for the body during exercise (see research on TRIPLECARB FORMULA).

Vitarade® Energy Gel fueled by Vitargo® provides a concentrated source quickly and easily digestible carbohydrates, making up effectively supports the body during intense exercise.

Vitarade® ENERGY GEL fueled by VITARGO® - THIS IS WHAT YOU NEED!


Recommended use:
Day Training:
1-2 servings during training.
Non-training day:
Do not use.
Uwagi:
Suplement diety / Środek spożywczy zastępujący całodzienną dietę, do kontroli masy ciała.
Nie może być stosowany jako zamiennik bądź substytut zróżnicowanej diety.
Nie stosować w przypadku uczulenia na którykolwiek ze składników produktu.
Nie należy przekraczać zalecanego dziennego spożycia.
Zalecany jest zrównoważony sposób żywienia i zdrowy tryb życia.
Produktu nie należy podawać matkom karmiącym oraz kobietom w ciąży.
Przechowywać w miejscu niedostępnym dla małych dzieci.
Przechowywać w suchym miejscu, w temperaturze pokojowej do 25°C. Chronić przed światłem.
UWAGA - kopiowanie oraz rozpowszechnianie opisów produktów zamieszczonych w sklepie BODYPAK.PL jest zabronione!
Zgodnie z Ustawą z dnia 4 lutego 1994 r. o prawie autorskim i prawach pokrewnych (Dz. U. z 2006 r. Nr 90, poz. 631 z późn. zm.)