HIGH QUALITY 100% PURE VITAMIN C
FORM OF POWDER FACILITATING SUPPLEMENTATION
STRENGTHENS THE IMMUNE SYSTEM (M. IN. SEALING BLOOD VESSELS TO IMPEDE PATHOGENS THEIR FADE)
WITH STRONG ANTIOXIDANT PROPERTIES HELPS IN FIGHTING FREE RADICALS
SUPPORTS FAST SYNTHESIS OF NEW COLLAGEN PROTEINS (THUS IMPROVES JOINT REGENERATION)
CONTRIBUTES TO DECREASE TIREDNESS AND FATIGUE
HELPS LOWER CORTISOL LEVELS
ONE PACK UP TO 500 FULL PORTIONS!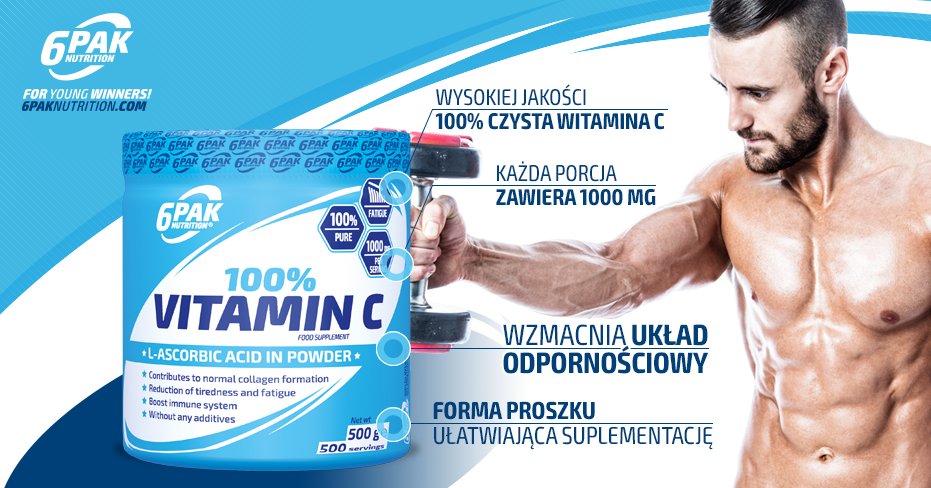 Vitamin C is one of the important vitamins for determining the strength of the immune system! However, its positive impact is visible also in other areas such as improving the regeneration of joints and leveling activity of free radicals. Top-quality preparation at a very good price at your fingertips!


6PAK Nutrition Vitamin C is a high quality product in the powder which after reconstitution is an excellent source of vitamin C with a very high bioavailability. Each portion is 100% pure L-ascorbic acid, without any unnecessary additives and fillers. It is recommended during the period of reduced immunity, and during periods of increased physical activity. Vitamin C plays in the body a number of important functions and mainly affects the proper functioning of the immune system is involved in protecting cells from oxidative stress and contributes to the reduction of tiredness and fatigue. In addition, it helps to maintain normal production of collagen in order to ensure the proper functioning: cartilage, bone, blood vessels, skin, teeth and gums.

STRENGTHENS immunity, promotes recovery JOINTS, IMPLIED CONDITION IMPROVES SKIN AND NAIL.

Vitamin C and its health-promoting effects on many levels is widely known and appreciated. It is worth noting one more issue, namely its impact on the level of cortisol (aka the stress hormone). Its increased concentration persisted for a long time may lead directly to the breakdown of body tissues, including muscles. Of course, this is not a process of sudden and immediate, bearing in mind what is meant by "stress." Modern rush for a career and money, daily struggle with tasks at work - all this makes the cortisol level rapidly rises. Athletes who assume "De-stress" during workouts unfortunately also need to be careful. Each exercise, increase the body burden translates to increased levels of stress that accompanies athlete. So we take care of the appropriate dose of vitamin C in your daily supplementation, because it affects the reduction of cortisol and helps its normalization. Vitamin C is not produced by the human body *, so please take care of it the right amount in your daily diet - eg. Through the use of this preparation.

* Interesting fact: as evidenced part of the research body negligible number of people (at the level of parts per thousand) is able to produce by natural synthesis of vitamin C. However, the amounts are small and not enough to satisfy even the smallest needs of the human body.

Cortisol - the stress hormone otherwise, to adversely affect the effects achieved by athletes because it hinders the development of muscles (while also facilitating the deposition of fat). He also serves many important functions such as support to maintain an appropriate level of glucose in the blood (unfortunately at the expense breakdown of amino acids). Production of glucose from non-sugar substrates takes place in the liver. Cortisol also increases the risk of stretch marks, which is associated with the fact that the new synthesized collagen proteins are damaged and do not provide adequate flexibility and resistance to stretching of the skin.

6PAK NUTRITION VITAMIN C - MAXIMUM CONCENTRATION AND EFFICIENCY AT A GOOD PRICE!

* Any Bryl powder is not a fault and does not affect the operation of the product.

Literature:

[1]. Joseph L. Marsit, Michael S. Conley, and Michael H. Stone Effects of Ascorbic Acid on Serum Cortisol and the Testosterone : Cortisol Ratio in Junior Elite Weightlifters., JJournal od Strength and Conditioning Research 199;12(3):179-184
[2]. Peters EM, Anderson R, Nieman DC, Fickl H, Jogessar V. Vitamin C supplementation attenuates the increases in circulating cortisol, adrenaline and anti-inflammatory polypeptides following ultramarathon running., J Sports Med. 2001 Oct;22(7):537-43
[3].Sebastian J Padayatty, John L Doppman, Richard Chang, Yaohui Wang, John Gill, Dimitris A Papanicolaou,and Mark Levine Human adrenal glands secrete vitamin C in response to adrenocorticotrophic hormone, Am J Clin Nutr 2007;86:145–9. Printed in USA. © 2007 American Society for Nutrition
[4]. Fischer CP, Hiscock NJ, Penkowa M, Basu S, Vessby B, Kallner A, Sjöberg LB, Pedersen BK., J Physiol.Supplementation with vitamins C and E inhibits the release of interleukin-6 from contracting human skeletal muscle. 2004 Jul 15;558(Pt 2):633-45. Epub 2004 May 28
[5]. Glen Davison Michael Gleeson, The effects of acute vitamin C supplementation on cortisol, interleukin-6, and neutrophil responses to prolonged cycling exercise, European Journal of Sport Science ,Volume 7, Issue 1, 2007
Recommended use:
Mix 2 scoops of powder (1 g) with 150 ml of water, juice, or other favorite, but a hot beverage. Consume once a day preferably during a meal.
Uwagi:
Suplement diety / Środek spożywczy zastępujący całodzienną dietę, do kontroli masy ciała.
Nie może być stosowany jako zamiennik bądź substytut zróżnicowanej diety.
Nie należy przekraczać zalecanego dziennego spożycia.
Produktu nie należy podawać matkom karmiącym oraz kobietom w ciąży.
Przechowywać w miejscu niedostępnym dla małych dzieci.
Przechowywać w suchym miejscu, w temperaturze pokojowej do 25°C. Chronić przed światłem.
© UWAGA OPIS AUTORSKI BODYPAK - kopiowanie oraz rozpowszechnianie opisów produktów zamieszczonych w sklepie BODYPAK.PL jest zabronione!
Zgodnie z Ustawą z dnia 4 lutego 1994 r. o prawie autorskim i prawach pokrewnych (Dz. U. z 2006 r. Nr 90, poz. 631 z późn. zm.)
Cena za jeden opis naszego autorstwa wynosi 10 000 zł netto.