Description
MAXIMUM INCREASE IN STRENGTH AND HIGH QUALITY MUSCLE
PERFECT COMBINATION AND TCM CREATINE HCL
SUPER ABSORPTION WITH COMPLEX WW
REFRESHING FRUIT FLAVOR
GOOD SOLUBILITY
POSITIVELY AFFECT THE PROCESSES RECOVERY TIME
ACCELERATES REGENERATION STOCKS ENERGY BODY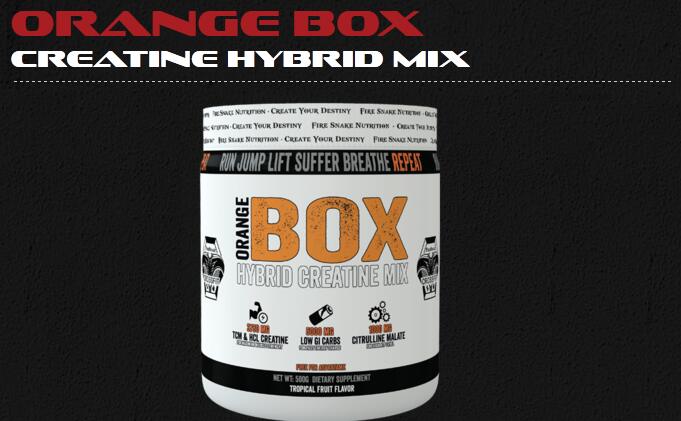 FIRE SNAKE ORANGE BOX is an advanced creatine product enhanced with complex carbohydrates with a low GI and citrulline malate. Included in the ORANGE BOX malate (TCM) and creatine hydrochloride (HCL) they were mixed in such proportions as to provide maximum strength increase, while eliminating adverse effects, such as subcutaneous water retention. It not established as yet effective mix!

FIRESNAKE ORANGE BOX combines the advantages of two types of creatine - TCM and HCL, to maximize the results achieved. It is a connection-oriented functional training and CrossFit - provides growth dynamic force, but does not artificially increase the weight. The product can be successfully used also in the case of students bodybuilding. Creatine is one of the supplements, the effectiveness of which is supported by numerous scientific studies. Because of its strong action has become one of the most effective agents used in strength sports, durability and speed events - with no negative side effects. An important advantage of FIRESNAKE ORANGE BOX (creatine contained in it) is also increased protein synthesis which gives increased anabolic effect and, consequently, increase muscle mass. Creatine compared HCL monohydrate is also more stable (not subject to rapid degradation of creatinine), which results in a higher amount of creatine stored in muscle.

Thanks to the formula FIRESNAKE ORANGE BOX for even better absorption and greater stability, doses of creatine hydrochloride may be less than the traditional monohydrate. Creatine hydrochloride is absorbed 70% better than regular creatine.

Compared to the conventional creatine monohydrate, creatine malate better stability (it is rapidly degraded in the acidic juice of stomach acid unsuccessfully creatinine) and bioavailability (significantly more quickly enters the blood stream) with the result that a much larger amount of creatine is stored in the a muscle cell.

FIRESNAKE ORANGE BOX provides:

- Increase energy levels - By increasing the amount of ATP in the muscle creatine protect stocks of carbohydrates and reduces the formation of lactic acid which is popularly known as soreness. Creatine in muscle cells to enter the mitochondrion, and connections to each molecule of ATP - a substance which is the main energy source for initiating muscle contractions. Interestingly, ATP also acts on receptors located in the cell membrane, showing the operation related to adrenaline. Creatine supplementation will maximize the amount of ATP in the body so that the energy level and exercise capacity increased several times.

- Increase lean muscle mass - After a few days of creatine, muscles become bigger and more inflated - this is the effect of increasing the amount of creatine in muscle by about 50%. This causes a series of reactions that cause the cells absorb more water. Increased volume of the cell causes intracellular tension, the body interprets this as an anabolic signal - thereby stimulating the muscles to gain weight and strength. The result of the use of creatine is the immediate improvement of efficiency of the organism, which allows a longer, more intense workouts accelerate muscle building and will contribute to reduce the amount of body fat. During the first cycle, creatine can be obtained from 4 to 6 kg of lean muscle mass.

- Increased strength and stamina - the level of creatine in the body directly depend on the efforts of speed-strength, associated with contractions of muscle cells up to a short time. Tests confirmed that the strength gains achieved by taking creatine averages about 10%. Reports athletes by 20-30 percentage improvement in results is also not uncommon. Interestingly creatine brings excellent results not only in sports typically strength, but wherever it is important dynamic force - as in running, cycling, swimming.

Was conducted many studies confirming the efficacy of supplementation FIRESNAKE ORANGE BOX (therein creatine). To ensure long-term, stable operation of creatine contained in ORANGE BOX for the most part is based on Tricreatine Malate. Malate, creatine is produced by advanced production process by combining 3 molecules of creatine monohydrate of 1 malic acid. As a result of this merger creates a form of creatine with unique physicochemical properties. Compared to ordinary monohydrate, creatine malate is more stable, making it more resistant to the acidic environment of the digestive tract.

FIRESNAKE ORANGE BOX IS A PRODUCT CLASS THAT NOT ONLY ENSURE BETTER RESULTS OF FORCED but also faster muscle growth!


Recommended use:
A single 10g serving (two scoops) should be mixed with 300ml of water, juice or any drink. Drink immediately after preparation.
Day Training:
1 sachet per day for breakfast
Non-training day:
Take immediately after training, and in days without training in the morning when you wake up.
UWAGA - kopiowanie oraz rozpowszechnianie opisów produktów zamieszczonych w sklepie BODYPAK.PL jest zabronione!
Zgodnie z Ustawą z dnia 4 lutego 1994 r. o prawie autorskim i prawach pokrewnych (Dz. U. z 2006 r. Nr 90, poz. 631 z późn. zm.)
Suplement diety / Środek spożywczy zastępujący całodzienną dietę, do kontroli masy ciała.
Nie może być stosowany jako zamiennik bądź substytut zróżnicowanej diety.
Nie należy przekraczać zalecanego dziennego spożycia.
Produktu nie należy podawać matkom karmiącym oraz kobietom w ciąży.
Przechowywać w miejscu niedostępnym dla małych dzieci.
Przechowywać w suchym miejscu, w temperaturze pokojowej do 25°C. Chronić przed światłem.
Composition
| | | |
| --- | --- | --- |
| Serving Size: | 10g | |
| Servings Per Container: | 50 | |
| Packing: | 500g | |
| Contents: | Per Serving: | incl: |
| | Calories | 21kcal |
| | Total Carbs | 5000mg |
| | Blend of creatine | 3750mg |
| | Malate TCM | 3000mg |
| | Hydrochloride Creatine HCL | 750mg |
| | Citrulline Malate | 1000mg |
| | Potassium | 139mg |
| | Sodium | 61mg |
| | Magnesium | 32,5mg |
| | Ingredients: blend of carbohydrate (isomaltulose, maltodextrin, glucose), a mixture of creatine (creatine malate, creatine HCl), citrulline malate, potassium, sodium, magnesium, sweetener Acesulftam-K E950, acidity regulator - malic acid E296, substance przeciwbryląca dioxide silicon E551, thickener acacia gum E414, E1200 Polydextrose, tropical flavor. | |
* % Referencyjna wartość spożycia