Description
VERY STRONG EFFECT PUMP TRAINING
SIGNIFICANTLY IMPROVES BLOOD CIRCULATION AND NUTRITION MUSCLE
ADVANCED AND HIGHLY EFFECTIVE COMPOSITION
HELP TO SPEED UP INCREMENTAL MUSCLE AND STRENGTH
SPEEDS UP THE PROCESS OF RECOVERY TIME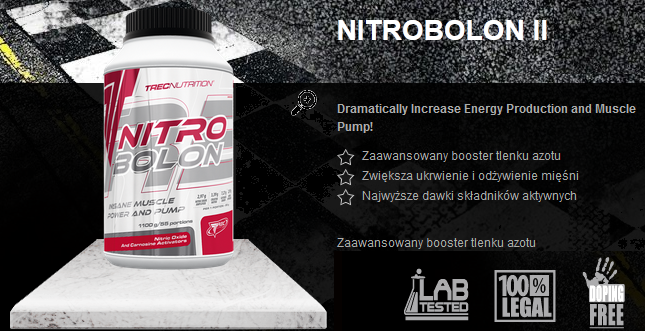 If you are looking for a breakthrough product, whose composition goes hand in hand with the highest quality and potency is NITROBOLON will surely meet your expectations. It's hard for a better product in this category. Amazing pump and the effects of the force are at your fingertips!

TREC NITROBOLON is a patented formula that increases the production of nitric oxide (NO), which has a very strong anabolic effect. As a result, dramatically increases the blood supply to the muscle tissue during heavy exercise, whereby it is more necessary for intensive energy transformations of nutrients and oxygen. TREC NITROBOLON only contains the most effective components intensifying the production of nitric oxide (NO) in the body, which in combination with the esterified creatine increase muscle tension and inflation. This translates to a spectacular increase their strength, endurance and circuits.

What is it and how does it work TREC NITROBOLON?

The ingredients contained in the TREC NITROBOLON such as Diarginine malate and arginine alpha keto-glutarate are precursors of the human body nitric oxide (NO), which is responsible for the speed of communication between cells. Increased production of nitric oxide causes relaxation of blood vessel walls, and inhibition of platelet aggregation, which leads to an increase in the rate and amount of blood flow in vessels and muscles. The result is more oxygen and nutrients (transported by the blood) in a muscle cell. This gives the effect of tension and "pumped-up" muscles, which causes a significant increase in muscle mass and strength.

Why TREC NITROBOLON is unbeatable product?

The unique combination of the strongest acting arginine precursors (arginine Malate and Arginine alpha keto-glutarate) that best convert arginine to nitric oxide is not the only secret of this product. Appendix Citruline malate (citrulline malate), which utilizes endotoxins allows you to fully utilize the production of nitric oxide is another secret of the product. What are endotoxins? Endotoxins are toxic substances produced during intense exercise, such as lactic acid and ammonia, which poison the body and block the production of nitric oxide.

TREC NITROBOLON also contains the latest creatine formula in the ester form (creatine ethyl ester HCl), which has a 100% bioavailability (better than regular creatine monohydrate). Therefore simply apply it in small doses, in combination with nitric oxide to obtain amazing anabolic effect.

Is TREC NITROBOLON an anabolic steroid?

No !!! Steroids are synthetic drugs available only by prescription in the pharmacy. They act very quickly, but they also cause a lot of negative effects on our body. TREC NITROBOLON although the potency to increase muscle mass and strength is comparable to anabolic steroids, it belongs to a group of dietetic foods that are completely safe product when used according to the manufacturer's instructions.

Which supplements used TREC NITROBOLON that the results achieved were maintained as long as possible?

Please note that TREC NITROBOLON is a potent anabolic which stimulates the body to grow. Increases the transport of nutrients that absolutely must be delivered in an appropriately balanced diet, which should be enhanced with:

Preparations carbohydrate and protein type "gainer" eg Mass XXL or Magnum 5000 Protein products: NitroProgen, Perfect Whey Protein and Amino acids: Anabolic BCAA System, BCAA POWDER, G-Force, Glutamine T6, Amino Whey System or Amino 4500

Who should use TREC NITROBOLON?

Everyone needs NO, because it is used in a number of vital processes to help achieve peak physical form. However, special attention should be paid to him bodybuilders, as a result of increased blood flow, it is possible to provide the necessary nutrients needed for rapid recovery and growth.

- Watching in the mirror after a hard workout, you know how your "inflated" body. If you want this effect remained for several days, use NITROBOLON.
- Men especially sexually active need large amounts of arginine, because 80% of seminal fluid is precisely this amino acid.
Recommended use:
The serving of the product - 20 g (4 scoops) in 300 ml of water, using a shaker. Depending on demand use 1-2 servings daily.
Day Training:
serving 30 min. before the workout, the second serving immediately after training.
Non-training day:
serving 30 min. before the first meal, II serving 30 min. before the main meal.
UWAGA - kopiowanie oraz rozpowszechnianie opisów produktów zamieszczonych w sklepie BODYPAK.PL jest zabronione!
Zgodnie z Ustawą z dnia 4 lutego 1994 r. o prawie autorskim i prawach pokrewnych (Dz. U. z 2006 r. Nr 90, poz. 631 z późn. zm.)
Suplement diety.
Nie może być stosowany jako zamiennik bądź substytut zróżnicowanej diety.
Nie należy przekraczać zalecanego dziennego spożycia.
Produktu nie należy podawać matkom karmiącym oraz kobietom w ciąży.
Przechowywać w miejscu niedostępnym dla małych dzieci.
Przechowywać w suchym miejscu, w temperaturze pokojowej do 25°C. Chronić przed światłem.
Composition
Trec NitroBolon II - 1100g
Zawiera substancje słodzące.
Portion:
20 g
Ilość porcji w opakowaniu:
55
Opakowanie:
1100 g
Masa netto :
1100.00 g
Wartość Odżywcza / Informacja Żywieniowa:
Na 20 g
% RWS*
Na 40 g
% RWS*
-
-
-
-

7.25 g
-
14.50 g
-
-
-
-
-

3.40 g
-
6.80 g
-

2.43 g
-
4.86 g
-
-
-
-
-

1.77 g
-
3.54 g
-

Tauryna

1.33 g
-
2.66 g
-
-
-
-
-

2.66 g
-
5.32 g
-

1.83 g
-
3.66 g
-
-
-
-
-

0.80 g
-
1.60 g
-

0.71 g
-
1.42 g
-
-
-
-
-

0.44 g
-
0.88 g
-

0.24 g
-
0.48 g
-

Składniki: GLYCOGEN LOADER [maltodekstryny]; CREATINE MATRIX [jabłczan trikreatyny; ester etylowy kreatyny]; MENTAL OPTIMIZER [inozyna; tauryna]; ARGININE MATRIX [alfa-ketoglutaran L-argininy; jabłczan L-argininy]; GLUTAMINE MATRIX [N-acetyl L-glutamina; L-glutamina]; POWER ACCELERATOR [jabłczan cytruliny]; regulator kwasowości (kwas cytrynowy); aromaty; substancje słodzące (sacharynian sodu, cyklaminian sodu); substancja przeciwzbrylająca (dwutlenek krzemu); barwnik dla produktu o smaku pomarańczy (żółcień pomarańczowa FCF*); barwnik dla produktu o smaku owoców tropikalnych (tartrazyna*).

*Żółcień pomarańczowa FCF, tartrazyna - może mieć szkodliwy wpływ na aktywność i skupienie uwagi u dzieci.

Produkt może zawierać alergeny takie jak: mleko, soja, pszenica, jęczmień, jaja, orzeszki ziemne i orzechy.
*% Referencyjna Wartość Spożycia