ZESTAW: SCITEC WOD MUSCLE FACTOR - 150 KAPS. + WOD BALANCED RECOVERY - 280G
Scitec WOD Muscle Factor
WSPOMAGA REGENERACJĘ
DUŻA DAWKA WITAMINY D
WSPOMAGA BUDOWĘ SUCHEJ MASY MIĘŚNIOWEJ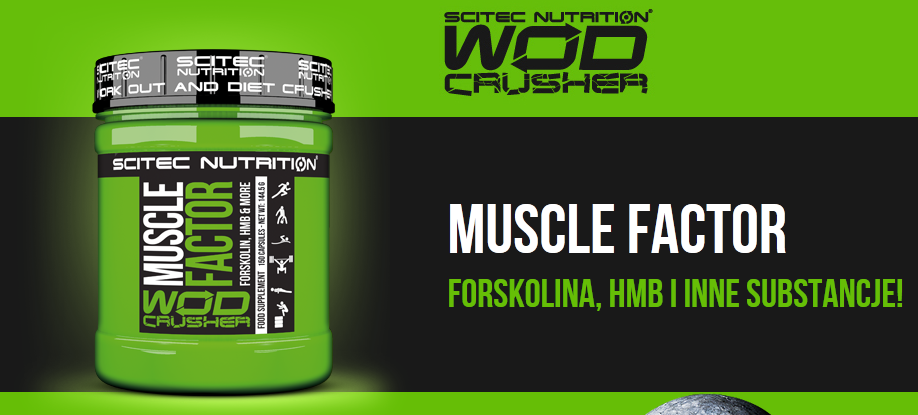 Formuły WORK OUT AND DIET (WOD) CRUSHER firmy SCITEC NUTRITION® pomogą Ci utrzymać odpowiednią dietę abyś mógł dać z siebie maximum podczas treningów, zwiększając tym wydolność fizyczną swojego organizmu.
Produkt MUSCLE FACTOR zawiera szereg składników aktywnych, które są niezbędne w celu zapewnienia optymalnej wydajności i są bardzo popularne w kręgu "myślących sportowców". Nasza formuła dostarcza Forskolinę i HMB w dawkach zalecanych (naukowo przebadane) przez producenta.

Jedna porcja dostarcza 100% zalecanej dziennej dawki witaminy D, która przyczynia się do prawidłowego funkcjonowania układu odpornościowego, układu mięśniowego oraz do poprawnego wchłaniania wapnia i fosforu.*
Wapń przyczynia się do - ważnych dla wszystkich, którzy uprawiają sport - prawidłowej przemiany energii i materii, prawidłowego funkcjonowania mięsni i także do przewodnictwa międzyneuronowego.
* Te stwierdzenia zostały dowiedzione naukowo i były autoryzowane przez Europejski Urząd Bezpieczeństwa Żywności (European Food Safety Authority).
Zalecane spożycie:
Spożywać 5 kapsułek w ciągu dnia wraz z posiłkami (5x1 kapsułka lub podzielone na 3 porcje - 2, 2, 1).
PRZEMYŚLANA I SKUTECZNA FORMUŁA
PRZYŚPIESZA REGENERACJĘ POWYSIŁKOWĄ
PRZYCZYNIA SIĘ DO SZYBSZYCH PRZYROSTÓW TKANKI MIĘŚNIOWEJ
ZWIĘKSZA MOŻLIWOŚCI ORGANIZMU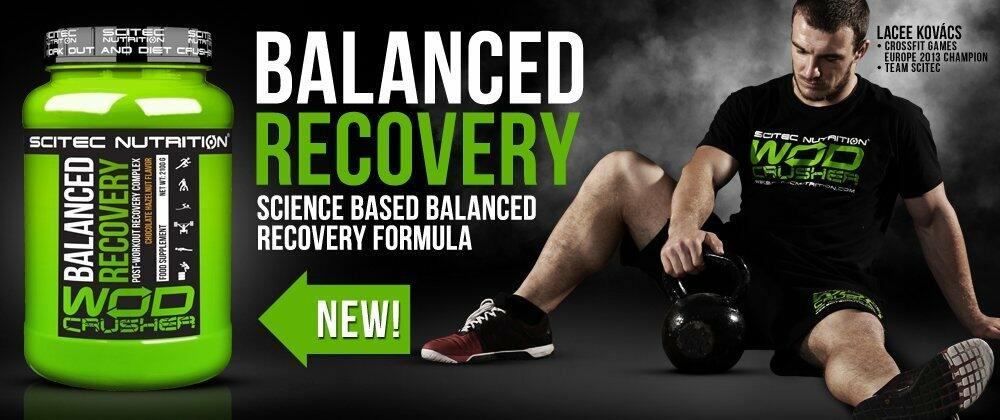 SCITEC BALANCED RECOVERY powstał by zapewnić Ci prawdziwie solidne podstawy do szybkiej i skutecznej regeneracji – w nowej formule nie ma miejsca na kompromisy! Dla każdego z nas najważniejszym celem jest wykonanie każdego treningu na 100%, nawet tego najcięższego. Niestety często zdarza się, że organizm nie regeneruje się tak szybko jakbyśmy tego chcieli, w tym momencie wkracza właśnie ta odżywka. Zadaniem BALANCED RECOVERY jest uzupełnienie utraconych mikro i makro elementów, regeneracja zapasów glikogenu oraz ogólne odżywienie komórek organizmu. Wbrew pozorom odpowiednia forma substancji odżywczych ma tu diametralne znaczenie! Wejdź na wyższy poziom dzięki SCITEC BALANCED RECOVERY!

Największy reżim treningowy – włącznie z CrossFit® oraz innymi rodzajami treningu o wysokiej intensywności – powoduje spalanie dużej ilości węglowodanów oraz utratę tkanki mięśniowej, dlatego wydajny odpoczynek wymaga doładowania węglowodanów, białek lub aminokwasów oraz takich mikroskładników odżywczych jak elektrolity, a także oczywiście wody. Radzenie sobie ze stanem zapalnym także może być przydatne. Szczególne znaczenie ma posiłek potreningowy, jeśli dodatkowa sesja treningowa planowana jest tego samego dnia.

ZBILANSOWANA REGENERACJA WOD CRUSHER to potreningowa formuła regeneracyjna, która została stworzona, aby dostarczać znaczącego i zbilansowanego wsparcia dzięki zaawansowanemu matriksowi białkowo-węglowodanowemu oraz kilku innym przydatnym składnikom, o które produkt ten został dodatkowo wzbogacony!

ZAAWANSOWANY MATRIKS BIAŁKOWY: nasza formuła bazuje na tym co najlepsze z najlepszych – na hydrolizowanym białku serwatki, które jest już wstępnie strawione do formy kilku jednakowo wymodelowanych cząsteczek, dzięki czemu wchłanianie i wykorzystanie tych składników jest najbardziej wydajne. Białko serwatki stało się standardem przemysłowym od kiedy jego wartość biologiczna jest największa, nawet w świecie CrossFit®. Rola białka w organizmie jest powszechnie znana, jednak wyróżniając najważniejsze: białka mogą przyczyniać się do utrzymania lub wzrostu masy mięśniowej oraz utrzymania prawidłowych funkcji kości!

ZAAWANSOWANY MATRIKS WĘGLOWODANOWY: w specyficznym stosunku do białek, dostarczany jest matriks węglowodanowy, który zapewnia węglowodany o różnym tempie wchłaniania. W matriksie zawarte są charakterystyczne substancje zarówno o szybkim jak i przedłużonym czasie uwalniania energii - Palatynoza™ oraz wysoko rozgałęziona Dekstryna o budowie cyklicznej.

DODATKOWE WSPARCIE AMINOKWASOWE: dodatek Tauryny, która jest częściowo niezbędnym aminokwasem oraz pełni funkcje stabilizatora błony lipidowej w organizmie człowieka oraz może wspomagać różne antyoksydacyjne systemy obronne.

DODATKOWE WSPARCIE UKŁADU IMMUNOLOGICZNEGO: Witamina C wspomaga ochronę komórek przed stresem oksydacyjnym oraz wspomaga syntezę kolagenu niezbędnego do utrzymania chrząstki, kości naczyń krwionośnych, dziąseł oraz skóry w dobrej kondycji. Witamina C wspomaga również prawidłowe funkcjonowanie układu odpornościowego podczas oraz po intensywnym wysiłku fizycznym (korzystny efekt uzyskiwany jest przy dziennym spożyciu 200 mg witaminy C w dodatku do zalecanej dziennej porcji do spożycia)!

ZBILANSOWANA REGENERACJA zawiera także elektrolity (Potas, Chlor, Sód, Wapń, Magnez). Potas wspomaga prawidłowe funkcjonowanie mięśni oraz układu nerwowego, a także utrzymanie odpowiedniego ciśnienia krwi! Bromelanina jest wyekstrahowaną z ananasa miksturą białkowych enzymów trawiennych zwanych proteazami.

SCITEC BALANCED RECOVERY ZAPEWNI SOLIDNE PODSTAWY POD TWÓJ PRZYSZŁY SUKCES!


Zalecane spożycie:
Dzień Treningowy:
Rozpuścić 1 porcję (70 g) w 400 ml wody. Zaleca się spożywać zaraz po treningu. Produkt nie może być stosowany jako substytut (zamiennik) zróżnicowanej diety.
Dzień Nietreningowy:
nie ma potrzeby stosowania