No customer reviews for the moment.
Description 6PAK Nutrition Milky Shake Whey - 1800g
WORLD QUALITY PROTEIN CONDITIONER
71% PROTEIN FROM WHEY PROTEIN CONCENTRATE (WPC)
LOW FAT
CONTAINS NO GLUTEN ASPARTAME
HIGH PROTEIN CONCENTRATION IN EACH SERVING
APPENDIX BUTTERMILK MAKES TASTE AND TEXTURE OF EACH SERVING IS A UNIQUE EXPERIENCE
VERY GOOD AMINOGRAM WARRANT THE AVAILABILITY TO ALL REQUIRED AMINO
GIANT NUMBER ELABORATE VARIETIES,
DOES NOT CONTAIN VEGETABLE PROTEIN
PROVIDES WHOLESOME PROTEIN
HELPS BUILD LEAN MUSCLE MASS AND RAPID RECOVERY
INSTANT FORMULA WITH ANY PORTION PERFECTLY DISSOLVES
Brand 6PAK Nutrition hit enter on the market nutritional and dietary supplements, offering high quality products with sophisticated compositions in a very good price. Every athlete appreciates other aspects of the use of their supplements, but in any case you will find something for everyone!

 
High-quality protein supplement based on a concentrate of whey protein with the addition of natural buttermilk. Thanks to its contents flavor and consistency is truly excellent - just add water to obtain a dense and extremely tasty protein shake. The ideal dietary supplement wo complete protein.

TASTE, Solubility, TEXTURE - CONDITIONER PERFECT FOR THE MOST DEMANDING ATHLETES!

6PAK Nutrition Milky Whey Shake is a nutritional high protein created in order to provide for all athletes, not only nutritious protein, but also sensational flavor and a thick shake. Choosing just the preparation you put on the highest quality and original solutions. Formula conditioner is based only on the full-featured protein source, which is whey protein concentrate (WPC). It is characterized by a very good amino acid profile (very similar to the model aminogram human protein). Body's need for nutrients increases physical activity. Sometimes it is difficult to deliver the right amount of nutritious protein, which makes athletes reach for high-protein nutrients. Choosing right for you follow not only the price, but the quality and composition. If you choose 6PAK Nutrition Shake Milky Whey certainly you will not be disappointed.

PERFECT Solubility - FORMULA INSTANT.

Milky 6PAK Nutrition Shake Whey is excellent both in terms of nutrient composition, flavor and consistency. It should be emphasized also the instanizowaną formula that makes the solubility of each portion does not cause any problems. A high concentration of branched chain amino acids once EAA improves regeneration, but also protects muscles against catabolism. Muscle tissue is composed of about 35% with BCAA (L-leucine, L-valine and L-isoleucine) - should therefore ensure an adequate supply of their daily diet. The more that they are not synthesized by the human body. Suitable ADDITION diet is just as important as adequate training.

6PAK NUTRITION MILKY SHAKE WHEY - WORLD HIGHEST QUALITY POLISH PRICE!

Dosage:

Dissolve 1 scoop powder (30 g) in 200 ml of water or skimmed milk. Consume in the morning, before or after training.


Attention
Suplement diety.
Nie może być stosowany jako zamiennik bądź substytut zróżnicowanej diety.
Nie należy przekraczać zalecanego dziennego spożycia.
Nie stosować w przypadku uczulenia na którykolwiek ze składników produktu.
Produktu nie należy podawać matkom karmiącym oraz kobietom w ciąży.
Zalecany jest zrównoważony sposób żywienia i zdrowy tryb życia.
Przechowywać w suchym miejscu, w temperaturze pokojowej, w miejscu niedostępnym dla małych dzieci.
Chronić przed bezpośrednim działaniem promieni słonecznych.
Composition
6PAK Nutrition Milky Shake Whey - 1800g
Zawiera substancję słodzącą.
| | |
| --- | --- |
| Porcja: | 30 g |
| Ilość porcji w opakowaniu: | 60 |
| Opakowanie: | 1800 g |
| Mass net: | 1800.00 g |
Wartość odżywcza / Informacja żywieniowa
na

30 g

% RWS*
na

100 g

% RWS*
Wartość Energetyczna (energia)
487 kJ / 115 kcal
%
1604 kJ / 379 kcal
%
Tłuszcz
2.0 g
%
6.6 g
%
- w tym kwasy tłuszczowe nasycone
1.3 g
%
4.3 g
%
Węglowodany
4.3 g
%
14 g
%
- w tym cukry
3.8 g
%
13 g
%
Białko
20 g
%
66 g
%
Sól
0.19 g
%
0.63 g
%
Wartości odżywcze podane są dla produktu o w wersjach smakowych, za wyjątkiem smaku czekoladowego. Mogą się od siebie różnić w zależności od wybranej wersji smakowej.
Składniki: 78% koncentrat białka serwatkowego (z mleka)2,3,4,5,6,7,8,9,11,12,13,14,15,16,17, 76% koncentrat białka serwatkowego (z mleka)10, 71% koncentrat białka serwatkowego (z mleka)1, 19% maślanka (z mleka)15,17, 18% maślanka (z mleka)2,3,4,7,9,10,12,13,14,16, 17% maślanka (z mleka)5,6,8,11, 16% maślanka (z mleka)1, kakao1, aromaty1,2,3,4,5,6,7,8,9,10,11,12,13,14,15,16, substancja zagęszczająca (guma celulozowa), substancja przeciwzbrylająca (dwutlenek krzemu)10,13, barwnik (karmel amoniakalny8), substancja przeciwzbrylająca (dwutlenek krzemu)1,3,4,6,7,8,9,11,12,16, koncentrat czarnej marchwi (dla zabarwienia)10, aromaty17, substancja przeciwzbrylająca (dwutlenek krzemu)2,14,15, sól1, regulator kwasowości (kwas cytrynowy)3, koncentrat soku buraczanego w proszku (dla zabarwienia)3,11, barwnik (karoteny4), emulgator (lecytyny ze słonecznika), substancja przeciwzbrylająca (dwutlenek krzemu)5,17, barwnik (karmel amoniakalny9), substancja słodząca (sukraloza), barwniki (karoteny2,5,6,9,14,15,17, karmel amoniakalny6,7,17, kompleksy miedziowe chlorofili i chlorofilin16), koncentrat soku buraczanego w proszku (dla zabarwienia)5,12.
Produkt może zawierać soję, zboża zawierające gluten, jaja, orzeszki ziemne i orzechy.
Dotyczy produktu o smaku: 1czekoladowym, 2waniliowym, 3truskawkowym, 4szarlotki, 5kiwi z truskawkami i mango, 6ciasteczkowym, 7caffe latte, 8czekolady z kokosem, 9bananowym z masłem orzechowym, 10jagodowym, 11kiwi z truskawkami, 12bitej śmietany z truskawkami, 13kokosowym, 14białej czekolady z brzoskwinią, 15lodów waniliowych, 16lodów pistacjowych, 17sezamu z miodem.
6PAK Nutrition Milky Shake Whey - 1800g
60 portions / 1800g
1 portion / 2.67 pln
100 g / 8.89 pln

Free delivery *for orders from 99 PLN

Kup Teraz,
Zapłać za 30 Dni


By buying this product you can collect up to
159 loyalty points
Other weights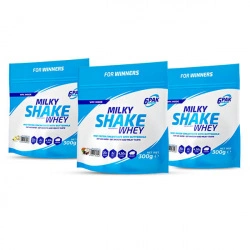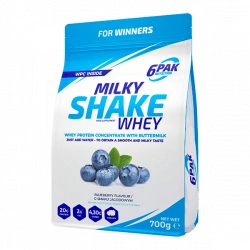 23 portions / 700g
1 portion / 2.74 pln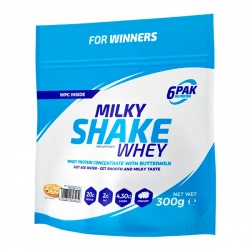 10 portions / 300g
1 portion / 3.30 pln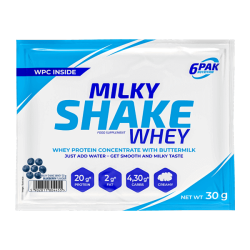 1 portions / 30g
1 portion / 2.99 pln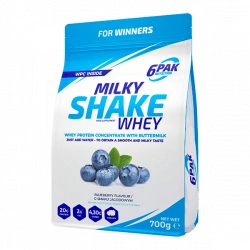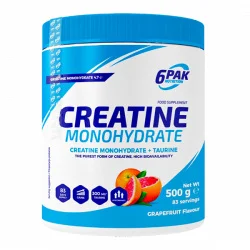 Frequently bought togather
Quick contact


Advice to email
porady@bodypak.pl

Online chat
Start a conversation