HIGH PROTEIN
IDEAL PRODUCT TO COMPLETE DIET AND CALORIES BEATING
BEST QUALITY CARBOHYDRATES WITH DIFFERENT ABSORPTION
UNTIL 5 TYPES OF CREATINE FOR BETTER ANABOLIC EFFECT
NO SWEETENERS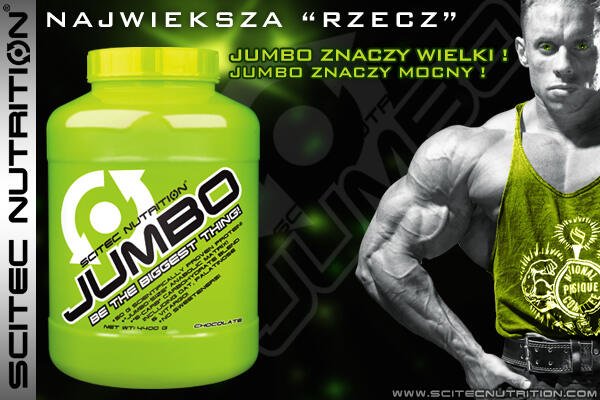 JUMBO MEANS BIG! JUMBO INDICATES STRONG!

Scitec JUMBO is a breakthrough product, the effect is visible already after the first dose. If you are looking for a product that offers more than any other - you should reach just after the conditioner. Scitec years proves that it is the best manufacturer and its products are the best in this category - but this time outdone himself creating JUMBO. Yes polished gainiera you will not find on the market. An additional advantage is the relatively low price of this supplement in confrontation with what is able to offer. Do not be fooled, the cheapest products do not reach even to heel JUMBO. Buy supplements guided by quality - in the end "we are what we eat".

Science has proven that people do not appreciate receiving nutrients while dieting, but also overestimate actual consumption of the food they eat, when they want to gain muscle mass and strength. In other words, they eat less than they think and less than they need for steady and significant progress in training. Everyone is looking for the golden mean, ignoring the fact that there is nothing more powerful than continuous consumption of the right amount of calories, energizing carbs and muscle building protein. If we consider the fact that many trainees do not devote enough time and energy to keep a diary of diet (as a proven method), then the only practical solution is used daily Jumbo, which guarantees a sufficient amount of nutrients capable of achieving excellent results. 50 grams of high quality protein in one portion, the large dose of fast and slow-release carbohydrates from 6-CARB and other matrix components provide excellent nutrition for your body JUMBO!

JUMBO composition was prepared from whey proteins. Proteins are a source of nitrogen and amino acids necessary for the maintenance and development of muscle tissue. Therefore JUMBO contributes to the growth and development of muscle mass. *

Whey protein derived from milk is considered to be protein "complete", since it provides all of the essential amino acids including the nine essential for the life of amino acids (histidine, isoleucine, leucine, lysine, methionine, phenylalanine, threonine, tryptophan, valine), which the body can not They produce them. The term "efficacy" nutritional protein content of the diet is largely based on an estimate of the extent to which the protein contained in the nitrogen is absorbed and retained by the body, and that is able to compensate for the daily loss of nitrogen. The net protein utilization (NPU) of the percentage of nitrogen that is absorbed by the body, while the biological value (BV) is the percentage of the absorbed nitrogen, which has been 'stuck' in the body. Thus, BV is the product of NPU and digestion. Whey protein is a well digested and is easily digestible amino acids and therefore its biological value (BV) is very high compared to other types of proteins derived from meat, fish, egg or soy.

JUMBO contains "6-CARB" carbohydrate blend consisting, among others, oatmeal, palatinose ™ and Waxy maize. Waxy maize is a unique, patented mixture wysokocząsteczkowych carbohydrates, which thanks to a unique manufacturing process have unique molecular profile that differs from the standard sugars (eg. Glucose, fructose) and current products maltodextrin.

JUMBO as the enriched matrix contains the optimal dose of a proprietary multi-component blend of creatine "CREA-BOMB." Scientifically it is proven that the consumption of at least 3 grams of creatine per day increases the productivity and effectiveness of brief, yet highly intense workout like. Strength training and aerobic *.

For JUMBO also we added additional amino acids to supplement those provided with the protein, including the amino acids. Contained in the "complex supporting 'dose of magnesium helps the correct synthesis of proteins, reduces fatigue, promotes the proper functioning of the nervous system (supports proper nerve conduction and muscle tone, including the heart muscle), contributes to normal energy metabolism and helps maintain electrolyte balance , maintenance of healthy bones and teeth, and plays a role in cell division. * In addition, added to the product Bioperine® patented extract of black pepper.

* This information has been scientifically proven and accepted by the European Food Safety Authority. Food Safety.

Jumbo does not contain sweeteners including aspartame!
Recommended use:
Day Training:
1/2 serving (120g) 2 times a day.
Non-training day:
1/2 serving (120g) 2 times a day.
UWAGA - kopiowanie oraz rozpowszechnianie opisów produktów zamieszczonych w sklepie BODYPAK.PL jest zabronione!
Zgodnie z Ustawą z dnia 4 lutego 1994 r. o prawie autorskim i prawach pokrewnych (Dz. U. z 2006 r. Nr 90, poz. 631 z późn. zm.)