HIGH QUALITY CONDITIONER ON THE BASIS OF TWO WHEY PROTEIN CONCENTRATES (WPC)
EXCELLENT PRODUCT FOR PEOPLE WITH A PROBLEM WITH DIGEST LACTOSE (RAW O REDUCED SUGAR MILK)
80% HIGH IN PROTEIN PER 100G OF PRODUCT
CONTENT OF LACTOSE & LT; 0.65G IN 1 SERVING!
CONTAINS LYOPHILIZED CULTURE OF BACTERIA: LACTOBACILLUS ACIDOPHILUS
LOW CARBOHYDRATE AND FAT PER 100G
SENSATIONAL TASTES AND SEAMLESS DISSOLUBILITY
RICH SOURCE OF AMINO ACIDS BCAA AND EAA
ENABLES ADDING LEAN MUSCLE MASS
ENABLES FAST REGENERATION EXERTIONAL
ASPARTAME FREE - CONTAINS NO ASPARTAME!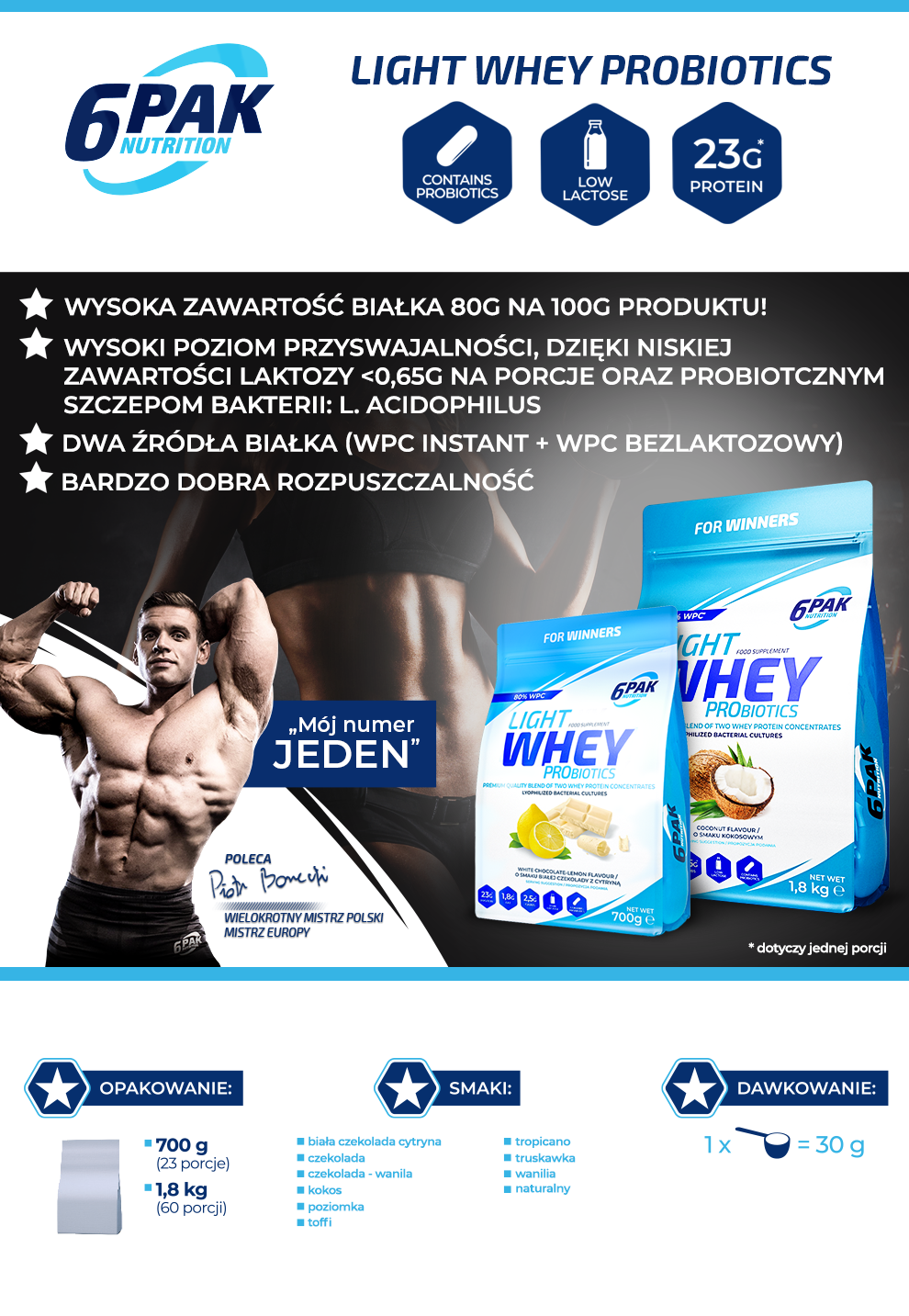 Brand 6PAK Nutrition hit enter on the market nutritional and dietary supplements, offering high quality products with sophisticated compositions in a very good price. Every athlete appreciates other aspects of the use of their supplements, but in any case you will find something for everyone!
 

6PAK Nutrition WHEY LIGHT is a high quality protein preparation, created on the basis of two whey protein concentrates WPC - stands. Whey Protein Concentrate. The first fraction WPC, is the raw material bezlaktozowy - which will certainly appeal to people who have problems with their digestion (in the case of most of the population the body loses with age the ability to synthesize lactase, which is responsible for the proper digestion of lactose). The second fraction is a High-quality whey in the form INSTANT, thanks to the LIGHT WHEY has a very good solubility. A combination of both concentrates in suitable proportions allowed to create a unique product on the market whey concentrates, the level of lactose in one portion is less than 0.65 g (for the chocolate below 0.59 g). In addition, the product dissolves perfectly, and with the appropriate composition of ingredients, has a very soft texture and is an excellent base for our flavor system.

The interesting is the addition of probiotics (freeze-dried cultures of Lactobacillus acidophilus - 100 million CFU [colony forming units] per serving), whose task is to maintain intestinal microflora in good condition, which also affects the body's resistance to all kinds of infections. In other words, the product does not only provide wholesome protein to your diet but also make the digestive system will be able to work efficiently.

SOURCE high amounts of protein in the diet of any athlete!

Light 6PAK Nutrition Whey is characterized by a refined taste and a smooth solubility. Contrary to appearances, these are the aspects that are of great importance for a comfortable and pleasant supplementation. Excellent flavor compositions make every serving is a pleasure!

Putting IN THE PREPARATION YOU CAN BE SURE THAT USED FOR ONE OF THE BEST high-protein nutrients AVAILABLE ON THE MARKET!

The formulation was made by using a whey protein concentrate (WPC) obtained from milk, is therefore an animal protein source, wherein the amino acid profile is almost identical to a human protein aminogram. This is a necessary condition that must meet each conditioner designed to provide the body with all the necessary amino acids necessary for normal development and regeneration of body tissues. A high concentration of branched chain amino acids and the EAA has a positive effect on the rate of recovery time and provides instant access to the building blocks for the future of your muscles. It is worth noting that they have a real impact on the reduction of catabolic processes, while enhancing anabolic!

WHO ROSE 6PAK LIGHT NUTRITION WHEY?

The proposed supplement meets the requirements of an athlete who is looking for a wholesome source of protein with minimal fat and carbohydrates (including lactose). The product perfectly suited to the day and immediately after exercise, when you need to quickly provide the building blocks for your muscles. In short, high quality, great taste, trouble-free solubility, valuable additions (health education) - are the most important qualities which characterized discussed conditioner! LIGHT WHEY can of course be used by people with little physical activity to supplement the diet with complete protein.

6PAK LIGHT NUTRITION WHEY - Excellent high-protein nutrient A GOOD PRICE!

[1]. Antonino Bianco, Caterina Mammina, Antonio Paoli, Marianna Bellafiore, Giuseppe Battaglia, Giovanni Caramazza, Antonio Palma and Monèm Jemni, Protein supplementation in strength andconditioning adepts: knowledge, dietary behavior and practice in Palermo, Journal of the International Society of Sports Nutrition 2011, 8:25

[2]. Jason E. Tang, Daniel R. Moore, Gregory W. Kujbida, Mark A. Tarnopolsky and Stuart M. Phillips, Ingestion of whey hydrolysate, casein, or soy protein isolate: effects on mixed muscle protein synthesis at rest and following resistance exercise in young men, J Appl Physiol 107: 987–992, 2009.

[3]. Adriana Nowak, Katarzyna Śliżewska, Zdzisława Libudzisz, probiotyki – historia i mechanizmy działania, żywność. Nauka. Technologia. Jakość, 2010, 4 (71), 5 – 19


Recommended use:
Day Training:
1-3 servings per day, depending on demand
Non-training day:
1-3 servings per day, depending on demand
Uwagi:
Suplement diety / Środek spożywczy zastępujący całodzienną dietę, do kontroli masy ciała.
Nie może być stosowany jako zamiennik bądź substytut zróżnicowanej diety.
Nie stosować w przypadku uczulenia na którykolwiek ze składników produktu.
Nie należy przekraczać zalecanego dziennego spożycia.
Zalecany jest zrównoważony sposób żywienia i zdrowy tryb życia.
Produktu nie należy podawać matkom karmiącym oraz kobietom w ciąży.
Przechowywać w miejscu niedostępnym dla małych dzieci.
Przechowywać w suchym miejscu, w temperaturze pokojowej do 25°C. Chronić przed światłem.
UWAGA - kopiowanie oraz rozpowszechnianie opisów produktów zamieszczonych w sklepie BODYPAK.PL jest zabronione!
Zgodnie z Ustawą z dnia 4 lutego 1994 r. o prawie autorskim i prawach pokrewnych (Dz. U. z 2006 r. Nr 90, poz. 631 z późn. zm.)